Here Are The Catches In Verizon's Unlimited Data Plan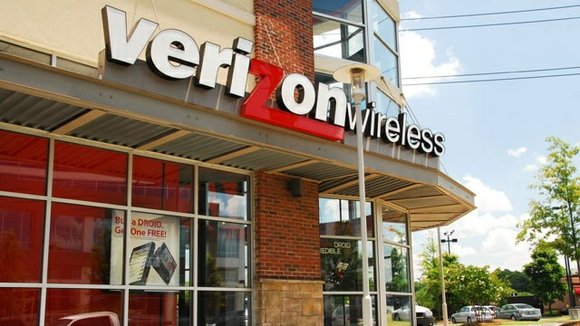 You can't ever read the fine print too carefully, and that is also the case with Verizon's new unlimited data plan.
The $80 unlimited plan — or, to phrase it more accurately, "unmetered" plan — that Verizon Wireless rolled out Sunday features fewer carve-outs and restrictions than comparable offerings from AT&T and Sprint, as well as one from T-Mobile, which has responded to Verizon by removing restrictions on hotspot use and video streaming.
To sum up: Verizon is offering unlimited data, talking and texting for a single line, for $80 a month. That's before taxes and fees, which typically inflate the bil. Its fine print contains qualifications that deserve a closer look.
Heavy users
— The first is the theoretical threshold at which your service may slow. As Verizon's frequently-asked-questions page warns, racking up 22 gigabytes of data on a line (not across all devices on your account) may lead the company to "prioritize usage behind other customers during network congestion."
That's not a hard cutoff or one you're stuck with for the rest of the month, and user reports of other carriers' "deprioritization" policies suggest the effects aren't that painful.
Hot spot limit
— Verizon's unlimited plan imposes a secondary limit on tethering, or using the phone as a portable WiFi hotspot to share its connectivity with another device. You get 10 GB a month of LTE tethering — per line, not account.
After that, your tethering drops to 3G speeds, which Verizon corporate-communications director Kelly Crummey said means a minimum of 600 kilobits per second.
Pricing confusion
— The pricing of Verizon's new deal can be confusing as well. Verizon usually lists rates exclusive of a $20 line-access charge, but it folds that cost into the advertised price of its unlimited plan: $80 for one device, $140 for two, $162 for three or $180 for four.
The result: Glancing at the numbers on Verizon's site can lead one to think that its "$70" 8 GB plan costs less than the unlimited plan, when in reality that 8GB plan will run you $90.
Conversely, I've seen some readers assume the new unlimited plan really adds up to $100 on one device, more than the current $95 cost of the unlimited plan Verizon stopped selling in 2011.
For more information go to http://www.khou.com