5 Things for Tuesday, January 31, 2017: Sally Yates, Travel Ban, Super Bowl LI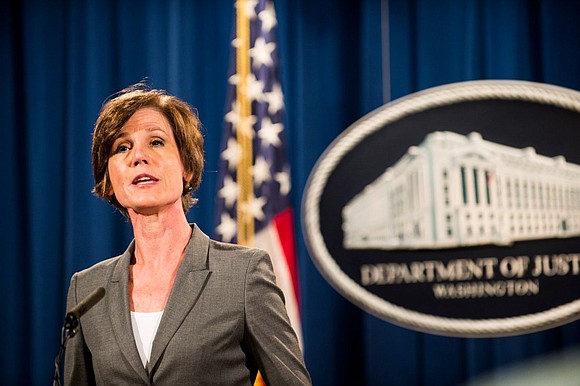 By Doug Criss
CNN
(CNN) -- With all of the political talk dominating the headlines, we almost forgot that it's Super Bowl week. And the storyline for Super Bowl LI looks very familiar. Here's what you need to know to Get Up to Speed and Out the Door.
1. Acting attorney general fired
President Trump got to engage in his old "Apprentice" persona when he fired acting Attorney General Sally Yates. She told Justice Department lawyers not to defend Trump's executive order on immigration and refugees because she felt it was unlawful. Trump moved quickly in firing her, which was done via a hand-delivered letter (and not from across a board room table like in Trump's TV show.) A new acting attorney general was then sworn in. The President said Yates had "betrayed" the Justice Department; her defenders on the left praised her for standing up for the Constitution's principles. But Yates's act of defiance was always going to be short-lived anyway -- a vote on Trump's pick for attorney general, Jeff Sessions, is scheduled for later today.
2. Trump travel ban
Well that didn't take long. George Bush didn't utter a word of criticism during Barack Obama's eight years in the White House. But Obama's already blasting Donald Trump after just 10 days. Obama joined the chorus of voices protesting Trump's travel ban, saying he "fundamentally disagrees with the notion of discriminating against individuals because of their faith or religion." Meanwhile, protests against the executive order stretched into a third day, both here and in the UK. The demonstrations moved from airports to the streets, state house steps and public squares. But the ban has a number of supporters as well, both in Congress and in the general public, who say they don't have anything against refugees but want the US to stay safe from terror attacks.
3. Supreme Court pick
President Trump will reveal his Supreme Court pick tonight, but the looming battle over who ultimately replaces the late Justice Antonin Scalia may not be the scorched Earth war everyone thought it was going to be. Senate Democrats are still ticked off that the GOP blocked a vote on former President Obama's nominee, Merrick Garland. But they probably won't take it out on Trump's pick and try to block it. Why? For one thing, Trump's pick won't change the ideological balance of the court, since Trump will be replacing one conservative with another. Secondly, the Dems don't want the GOP to retaliate by invoking the "nuclear option" and getting rid of the filibuster for Supreme Court nominees. The filibuster is the best weapon the Democrats have to stop a Trump court nominee, and they want it available if or when the next Supremes pick -- one that really could change the balance of the court -- comes up later.
4. Quebec mosque attack
The man who attacked a mosque full of worshipers in Canada was a lone wolf. Police said suspect Alexandre Bissonnette was working alone when he fired indiscriminately on a crowd of men, women and children at the Quebec Islamic Cultural Center in Quebec City. Six people were killed, and Bissonnette, a college student, is charged with six counts of first-degree murder. Police say the incident, being investigated as an act of terror, is the kind of attack that's hard to prevent.