Five Astros Named to American League All-Star Team
Altuve, Correa, Springer elected as starters while Keuchel and McCullers Jr. get in via player vote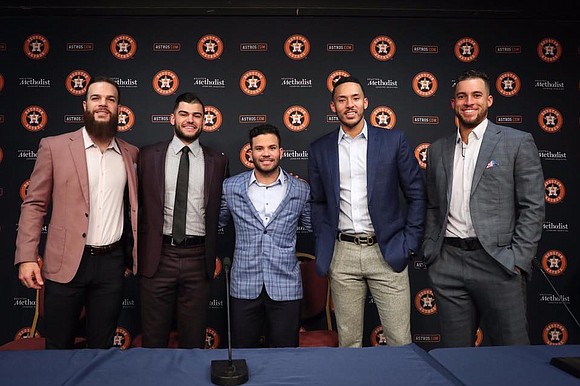 HOUSTON, TX – Major League Baseball announced tonight that second baseman Jose Altuve, shortstop Carlos Correa, outfielder George Springer, left-handed pitcher Dallas Keuchel and right-handed pitcher Lance McCullers Jr. have been named to the 2017 American League All-Star Team. Altuve, Correa and Springer were elected to start the game via the fan vote at second base, shortstop and in the outfield, respectively. Keuchel and McCullers Jr. were named to the game via a combination of the Player Ballot and Major League Baseball's Office of the Commissioner.
This marks the first time in club history that the Astros have three starters elected via the fan vote for a single All-Star Game. The Astros did have three starters in the 2004 All-Star Game at Minute Maid Park, but just one (2B Jeff Kent) was elected via the fan vote. CF Lance Berkman replaced an injured Ken Griffey Jr. and RHP Roger Clemens was the starting pitcher.
This also marks the second time in club history that the Astros have five All-Stars in a single season. In 1994, Jeff Bagwell, Craig Biggio, Ken Caminiti, Doug Drabek and John Hudek were all National League All-Stars.
This marks Altuve's third consecutive fan-elected start at second base, and his fifth-career All-Star selection overall, as he was a National League All-Star in 2012 and an American League All-Star from 2014-16. It's the second-career All-Star nod for Keuchel, who was the AL's starting pitcher for the 2015 All-Star Game. For Correa, Springer and McCullers Jr., this marks their first-career All-Star nominations.
Altuve is set to become just the second player in club history to start three consecutive All-Star games, joining Craig Biggio, who started four consecutive games at second base from 1995-98. Altuve's five All-Star nods are the tied for the second-most in club history with Lance Berkman, behind only Craig Biggio (7). He will become the 11th second baseman in AL history to start three All-Star Games, joining Roberto Alomar (9), Rod Carew (8), Nellie Fox (8), Charlie Gehringer (6), Joe Gordon (5), Bobby Doerr (5), Robinson Canó (5), Willie Randolph (4), Alfonso Soriano (3) and Lou Whitaker (3).
Correa is the first Astros shortstop to be named a starter for the All-Star Game, and the first Astros shortstop to be named an All-Star overall since SS Miguel Tejada was named an NL All-Star in 2008. Springer will become the first Astros outfielder to start in an All-Star Game since OF Lance Berkman started in center field in the 2004 All-Star Game at Minute Maid Park.
Altuve led all American League second basemen with 3,880,372 votes to beat out New York's Starlin Castro (1,996,103). Among all AL players, he had the second-highest vote total behind only Aaron Judge of the Yankees (4,488,702). Correa led all AL shortstops with 2,947,674 votes, directly ahead of Cleveland's Francisco Lindor (2,103,857). Springer received the third-most votes among AL outfielders (2,207,329), behind Judge (4,488,702) and Angels outfielder Mike Trout (3,208,925). Springer received 470,544 more votes than the fourth-place outfielder, Cleveland's Michael Brantley (1,736,785).
After finishing third in the AL MVP voting in 2016, Altuve has carried his MVP-caliber production into 2017. The 27-year-old entered today leading the American League in batting (.327) and ranking second in hits (100) and on-base percentage (.399), third in WAR (3.8), tied for fourth in doubles (23), fifth in stolen bases (16), tied for seventh in runs (53) and ninth in OPS (.922). He currently leads all AL second basemen in batting, hits, OBP and OPS.
Correa has been one of the American League's best players this season, as he entered today among the top 10 AL players in on-base percentage (4th, .388), RBI (7th, 55), batting (8th, .311), OPS (8th, .931), hits (10th, 91) and homers (T-10th, 17). The 22-year-old was leading all Major League shortstops in home runs and RBI, and leading all AL shortstops in OPS and on-base percentage prior to today's games. He was named the AL Player of the Month for May after leading the circuit in batting (.386) and RBI (26), while hitting seven home runs and posting a 1.130 OPS. Correa will become the first 22-year-old shortstop to start for the AL in the All-Star Game since Alex Rodriguez in 1998.
Springer has elevated his game to another level in 2017 after an All-Star worthy 2016. The 27-year-old has hit 24 home runs, tied for the second-most in the Majors, including a Major League-best and single-season franchise-record nine leadoff home runs. Springer's nine leadoff homers are the most by an AL player since Alfonso Soriano set a Major League record with 13 in 2003. The center fielder has batted .287 this season, and entered the day ranking among the top five AL players in runs (2nd, 63), total bases (3rd, 175) and OPS (4th, .936).
Keuchel, 29, has been virtually unhittable this season in what has been a return to the elite level of performance he showed during his 2015 AL Cy Young-winning campaign. In 11 starts, Keuchel has gone 9-0 with a 1.67 ERA (14ER/75.2IP), 69 strikeouts and a .183 opponent batting average (48x262). The Astros have gone 10-1 in his 11 starts, while his nine-game winning streak is the longest active streak in the American League. This season, Keuchel joined RHP Roger Clemens (2004) as the only pitchers in club history to start a season with a 9-0 record. In April, he took home his fourth-career monthly award when he was named the AL Pitcher of the Month after leading the Majors in wins (5) while posting a 1.21 ERA.
McCullers Jr. has put himself in position to be a strong AL Cy Young contender this season, going 7-1 with a 2.69 ERA (26ER/87IP) and 103 strikeouts in 15 first-half starts. The 23-year-old entered today ranked third in the American League in ERA behind fellow All-Stars LHP Jason Vargas (2.22) and LHP Chris Sale (2.61), while also ranking in the top 10 in groundball rate (1st, 64.4%), opponent batting average (5th, .212), strikeouts per 9.0 innings (4th, 10.66), strikeouts (T-7th, 103) and strikeout to walk ratio (7th, 4.12). In May, he was named the AL Pitcher of the Month after leading the AL in ERA (0.99) and posting a 22.0-inning scoreless streak, tying him for the second-longest scoreless innings streak in the AL this season. He is the second-youngest pitcher in club history to make an All-Star Team, behind only RHP Larry Dierker (22 in 1969).
The 88th MLB All-Star Game will be played on Tuesday, July 11 at Marlins Park in Miami, Fla.