From Being Paralyzed By Shame to Coaching Serena Williams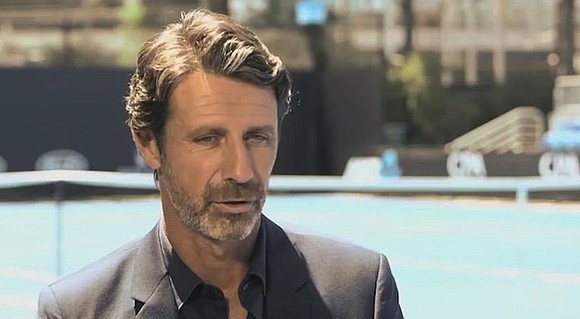 He has had little sleep. His lack of shut-eye, he says, is a combination of boundless media commitments and late-night socializing with friends in England's capital.
He gladly accepts a cup of so-so office-made coffee, although outwardly he doesn't appear to need an injection of caffeine. Wearing a jacket, white shirt and a pocket square, he is the personification of exemplary Gallic tailoring.
And though 30 minutes early for the interview, he doesn't use the spare time to pause. Instead, the loquacious Frenchman is happy to talk at length about Williams -- her pregnancy, her return -- and his rise from an anxious, unhappy child to one of tennis' best coaches.
This is a strange time for the father-of-four. He is at Wimbledon with no student to teach, but this summer, he says, is just the interval before one of the sport's most successful partnerships resumes next year.
Mouratoglou did not know Williams was pregnant during the Australian Open in January, a tournament she won without dropping a set, but the news did not come as a surprise because the player had, he says, been looking forward to becoming a mother "for quite a long time."
Ever since Williams announced in May that she was pregnant, the 35-year-old -- the oldest player to ever be a world No.1, the most relentless accumulator of grand slam titles in nearly 50 years -- has maintained she will play tennis competitively again.
She is a woman who thinks "everything is possible," says Mouratoglou.
"Serena with a baby is still Serena," he continues. "I know she will need time because I know it's a trauma for the body, but we'll take the time.
"It's a new situation but when I see how determined she is at the moment to come back, I'd be really surprised if she changed her mind."
By posting videos on social media of practice sessions at her Miami home, the mum-to-be has been showing the world her steadfast desire to make a comeback and last month flew to Paris to make plans with Mouratoglou for her return.
"She wanted to ask me a lot of things -- what would be the team and when we would start," Mouratoglou explains.
"My job is called adaptation. It's always about adapting to new situations, but the core team is going to be the same. It's just extra people, like a nanny, but even if they come to the court, it's fine, we'll adapt.
"She's incredibly happy and she's frustrated at the same time because she wants to compete.
"She's playing every day. She doesn't move around the court, she just wants to keep contact with the ball and that's it."
'Serena is in a permanent state of non-satisfaction'
It was Williams who, in 2012, picked up the phone and called Mouratoglou to ask if she could use the facilities at his academy on the outskirts of France's capital. He has recently opened another academy in Nice.