How the Republican Health Care Bill Fell Apart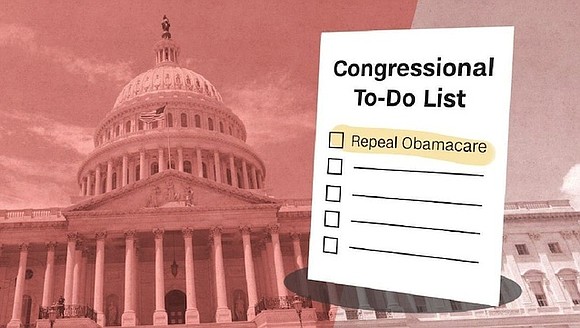 By Lauren Fox, Phil Mattingly, MJ Lee, Ted Barrett and Dan Merica
CNN
WASHINGTON (CNN) -- The Republicans' signature campaign promise to repeal and replace Obamacare came to a screeching halt Monday night after Sens. Mike Lee of Utah and Jerry Moran of Kansas came together, shocked Capitol Hill and vowed to vote against the latest draft of the GOP's health care bill.
"We should not put our stamp of approval on bad policy," Moran said in a bold statement that derailed Majority Leader Mitch McConnell's bid to overhaul the Affordable Care Act. McConnell could only lose two senators and still pass the bill, and Maine's Susan Collins and Kentucky's Rand Paul had already defected.
Across town, over rosemary-grilled rib eye and summer vegetable succotash at the White House, President Donald Trump and GOP leaders were attempting to convince a group of reliably conservative rank-and-filers to join with them and vote for the health care bill. But as they dined on lemon ricotta agnolotti with heirloom tomato ragout and the "farm stand peach cobbler," the Senate rebellion against the health care bill was well underway.
That's because Lee and Moran were working all day Monday on how they could announce their opposition together.
The goal was to avoid being the notorious and definitive third "no" vote, aides told CNN. If they announced together, Moran and Lee could share the heat. But also implicit in their joint opposition was a clear fact: They represented different, significant concerns with the bill. Their joint opposition served to provide cover for other on-the-fence colleagues who may soon join them in publicly opposing the GOP's effort at finally making good on its cornerstone campaign promise of the past seven years.
Trump and top White House aides were caught off guard Lee and Moran's move, a senior White House official said Tuesday, adding the President was "annoyed."
Monday's dinner was a "strategy conversation," the official said where Trump made the case that now is the time for Republicans to deliver on their promise of repealing Obamacare.
"If you have control of the House, Senate and White House, we have to get this done," Trump said, according to the official.
"This dinner was with senators who know the ebbs and flows of legislation and it was more of here is what to expect going forward," the official added. "Although we didn't expect the announcement last night."
Trump expressed some of that annoyance on Twitter Tuesday morning.
"We were let down by all of the Democrats and a few Republicans. Most Republicans were loyal, terrific & worked really hard. We will return!" Trump tweeted.
A Senate GOP aide with direct knowledge of the ongoing upheaval told CNN that Lee and Moran are likely just the first of many to announce publicly they oppose the bill.
"More senators are ready to jump," the aide said. "This wasn't done without that knowledge."
The developments ended any hope that McConnell, with his Republican Senate majority, can pass the current version of the health care bill he's been crafting for months. He announced a plan to set up a vote on a straight repeal of Obamacare, a move that could let some Republican senators save face but likely wouldn't pass given lawmakers are skittish about repealing Obamacare without a replacement.