McCain Faces His Greatest Battle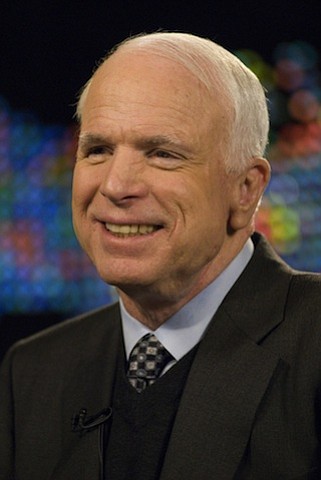 Fixture of Capitol Hill
But that combative streak has sometimes revealed a brittle, impetuous side of his personality that may have limited the ultimate height of his military and political careers and has often emerged in high pressure moments.
Still, McCain is also a throwback, maintaining friendships with rivals across the political aisle, which often got testy, as when he confronted Hillary Clinton and fellow Vietnam War veteran John Kerry at committee hearings when they were in the Senate with him.
When he lost to Obama in the 2008 election, McCain entered a dark period of his public life, often coming across as angry and not yet having come to terms with his defeat.
But the Republican recapture of the Senate in the 2014 mid-term election gave him a chance to rewrite the final chapter of his career, as he at long last took the gavel of the Senate armed services committee, an assignment he had long coveted. Soon, he was taking the Obama administration to task over its policies in Iraq, Syria and Ukraine.
But he knew his time was limited.
"Every single day," McCain told the New York Times in 2015, "is a day less that I am going to be able to serve in the Senate."
McCain, elected just last fall to his sixth Senate term, inadvertently found himself at the center of the 2016 presidential election race when he was attacked by Donald Trump who said: "He was not a war hero," Trump said in Iowa in 2015.
"He was a war hero because he was captured. I like people who weren't captured."
The comment triggered outrage, given McCain's war record. But it also marked an important moment in political history -- for the first time displaying Trump's capacity for getting away with behavior that would have sunk other candidates.
McCain's tense relationship with Trump was underlined on Monday, prior to the news of his cancer diagnosis, when the President said he hoped that the Arizona senator would get better soon: "Because we miss him. He is a crusty voice in Washington .... plus, we need his vote."
In recent weeks, McCain has emerged as a source of colorful quotes for reporters over the Russia cloud swirling around Trump, repeatedly predicting that "there will be more shoes to drop" in what he has painted as a classic Washington scandal. He has also made clear his disdain for any efforts to improve relations with Russian President Vladimir Putin.
The Arizona senator's absence from Washington in recent days has come at a politically inopportune time for Senate Majority Leader Mitch McConnell as he has desperately tried to find a majority to repeal and replace Obamacare.
Any prolonged absences from Washington by the Arizona senator will further reduce McConnell's already wafer-thin majority.
This week, after the health care push floundered, McCain broke ranks and called for discussions with Democrats and a committee process to finally provide "Americans with access to quality and affordable health care."