Trump's Blast of Sessions Has 'chilling' Effect Inside West Wing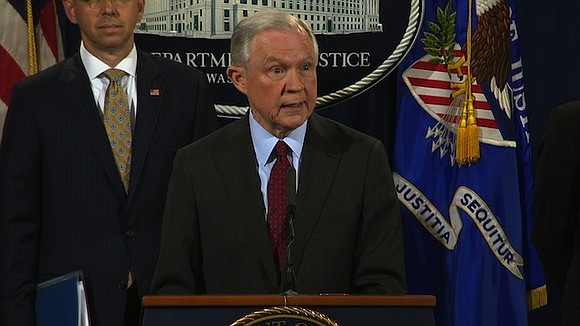 By Jeff Zeleny and Dan Merica
CNN
WASHINGTON (CNN) -- For President Donald Trump, loyalty in Washington is a one-way street.
Trump's trashing of several of his administration's top justice officials in an interview with The New York Times on Wednesday, including Attorney General Jeff Sessions, is causing deep alarm inside the West Wing, leading some to worry that their loyalty to Trump might not be reciprocated from the man in the Oval Office.
There's also a general sense of bewilderment as to why Trump gave the interview. Health care was the focus of the day. He actually got engaged -- to what effect we don't yet know -- but then this.
"It's chilling," one White House official said.
Conversations with the official and one top Republican in frequent contact with the West Wing show a president who has long been angry with Sessions' decision to recuse himself from the Russia probe, but rather than subsiding and moving on as Trump sometimes does, the anger has grown into a passionate rage.
"No one was more loyal than Sessions. No one," a White House official said, speaking confidentially to avoid drawing the President's ire.
The thinking goes: If this kind could happen to Sessions, it could happen to anyone. One official described the President's blasting of Sessions as only intensifying the already low morale inside the West Wing.
Trump faulted Sessions for accepting his offer to be attorney general and then recusing himself shortly thereafter due to undisclosed contacts he had with Russian officials during the campaign. The President said those actions were "very unfair" to him.
"Sessions," Trump told The New York Times, "should have never recused himself and if he was going to recuse himself he should have told me before he took the job and I would have picked somebody else."
He added: "How do you take a job and then recuse yourself? If he would have recused himself before the job, I would have said, 'Thanks, Jeff, but I'm not going to take you.' It's extremely unfair -- and that's a mild word -- to the President."
Loyalty
The comments are a stunning rebuke from a president who craves loyalty, demanding it from those who work for him. Trump has written extensively about the trait in his books, as well, touting it as the most critical quality as person can have.
But as Trump has eased into life in the White House, his demands for loyalty have proven to be unrequited, most recently shown by how he lashed out at Sessions, one of his earliest and most dedicated supporters.
Sessions declined to hit back at Trump during a press briefing Thursday, telling reporters that he "plan(s) to continue to do so as long as that is appropriate."
Sessions loyalty to Trump has been unflinching for years. The conservative senator was his first Senate endorsement, long before any other Republican heavyweights were on board. The senator also stood by Trump after the Access Hollywood tape controversy, where Trump was heard making lewd comments about sexually assaulting women. And Sessions even helped fill Trump's inner circle with confidants of his own, including Stephen Miller, Trump's top policy aide, and Rick Dearborn, a top White House legislative aide.