The Hottest Bridal Trends for 2017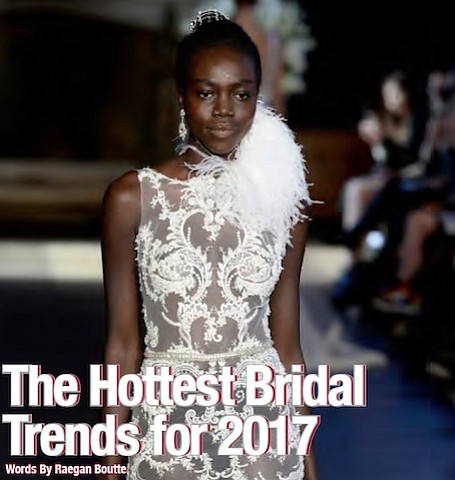 5 Sheer touches - Sheer is huge and in demand by the modern bride. A bride pulling this look off tends to be extremely confident with her body and doesn't mind all the attention she will get. Soft and sheer fabrics don't hide anything and really highlight the bride's silhouette. I recommend this style for a traditional cathedral wedding but the bride that dons a sheer wedding gown has nothing traditional about her.
6 Separates - Traditionally gowns have been one-piece. But that has gone out the window as brides show their waistlines. Separates allow the bride to really let loose and have fun when attending their receptions as they are not constricted. Fabrics are movable to allow the bride to be free. Whether the bride selects a 2-piece top and skirt or pantsuit, she will be comfortable and beautiful to leave her wedding and dance the night away at the after party.
7 Bows – I'm not talking about Minnie Mouse bows here. Bows are not just for little girls' ponytails. Designers are placing giant structural bows across the backs and necklines of gowns to create a dramatic stunning effect that brides love.
8 Lingerie inspired - Gowns that make you go Oh My! This is not for the shy bride. Lingerie inspired looks includes naked lace to beaded, textured and silk fabrics that drape the body leaving nothing imagined. This look works for the bride that dares to go there and for a groom confidant enough to watch his bride bring her sexy bedroom out.
So now that I've given you the run down on what's hot your next question is where to find these gowns. I enlisted the help of Decline Hagley, wedding planner and event extraordinaire of Fabulous Beginnings By Delcina & Co. Delcina knows her brides and has been successfully consulting brides for the last 10 years. Each salon mentioned has been tried and tested. Here is a list of the Best in bridal boutiques and fashion houses that Houston has to offer in town.
Weddings by Debbie - Whether your budget is $1,000 to $10,000, Weddings by Debbie can help you pick your perfect gown.

Mia Bridal Salon – Located in River Oaks, this smaller salon specializes in bridal designs that you won't traditionally find anywhere else in Houston.

Ivory Bride Atelier - Owned by sisters Ronit and Sharon Levy, this small fashionable bridal salon located on West Avenue offers brides personalized service you wont get at larger salons.
4 Olivia's Bridal House – Owner Nicole Derrick caters to brides with curves carrying sample sizes for plus sized brides.
A few tips that I picked up when shopping for wedding gowns is to not go on the weekends. Stores are too crowded and brides won't get that extra special treatment. Keep your entourage small for less stress. Too many people means too many opinions and can leave the bride overwhelmed. And if you need extra help contact Delcina Hagley to set up an appointment at Fabulous Beginnings, fabbeginnings.com.