Turkey Suspends High-level Diplomatic Relations with Dutch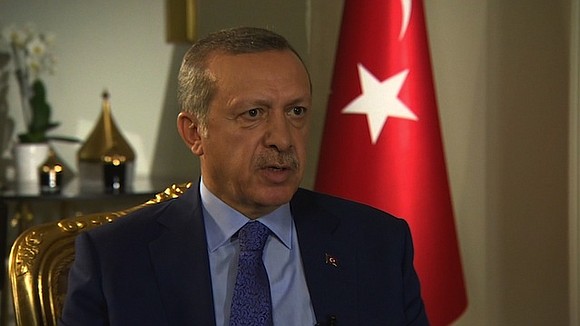 By Elizabeth Roberts
CNN
(CNN) -- Turkey will not allow the Dutch ambassador to Ankara to return to Turkey and has suspended high-level diplomatic relations between the two countries, a top government official has said.
Deputy Turkish Prime Minister Numan Kurtulmus announced the freeze in Ankara Monday amid an escalating row over Turkish officials' access to the Netherlands.
Over the weekend, the Netherlands' refused to allow Turkish Foreign Minister Mevlut Cavusoglu to visit Rotterdam for a political rally.
"Why this time am I a terrorist? Are the Turks living in this country terrorists?" Cavusoglu asked in an interview Monday with CNN's "Connect the World."
Soon after Cavusoglu was refused entry, the Dutch stopped Turkey's Family Affairs Minister Fatma Betul Sayan Kaya from entering the Turkish consulate in Rotterdam. She was later escorted out of the country.
Violent clashes erupted after the two ministers were prevented from addressing rallies in Rotterdam, where they hoped to drum up support for an April 16 referendum to give greater to Turkish President Recep Tayyip Erdogan.
Refugee deal at stake?
The deepening diplomatic row has prompted threats from Turkey to pull out of the EU-Migrant deal.
"Turkey should reconsider the land passage issue again," Turkey's EU Minister Omer Celik was quoted as telling journalists Monday by Turkey's state-run news agency Anadolu.
Struck last year, the deal was designed to stem the flow of migrants to Europe, in exchange for $6 billion in funding and relaxed visa rules for Turks.
Under the deal, the EU accepts one Syrian living in a Turkish camp for each migrant returned to Turkey in a "one-for-one" exchange, capped at 72,000 people. Anyone who crosses into Greece illegally will be sent back to Turkey.
No explanation, minister complains
In the interview with CNN on Monday, Cavusoglu said he'd been given no explanation as to why he was stopped from entering the Netherlands. The Dutch said it was due to public order and safety concerns.
"Is there any one single Turkish Turk radicalized? They say no. So what is the security problem then? They don't give me any detail, I am the foreign minister of Turkey. I am not a terrorist. This is just excuse, unfortunately, to hide the real reasons," he said.
Cavusoglu suggested that a rise in racism, Islamophobia and xenophobia in the Netherlands and other European countries was to blame.
The Dutch will vote in a general election on Wednesday, and far-right candidate Geert Wilders' anti-Islam, anti-EU Party for Freedom (PVV) is expected to make a strong showing.
Cavusoglu also said the Netherlands and other European countries wished to "obstruct" the yes campaign for April's referendum on the Turkish constitution.
The EU took the step of warning Turkey about the ramifications of the referendum, issuing a statement which said that consolidating the powers of the presidency would have implications for Turkey's long-held goal of EU membership.
"The proposed amendments, if approved at the referendum of 16 April, and especially their practical implementation, will be assessed in light of Turkey's obligations as an EU candidate country and as a member of the Council of Europe," it said.