Key Witness: Aaron Hernandez Shot 2 Men, Then Warned, 'Don't say nothing'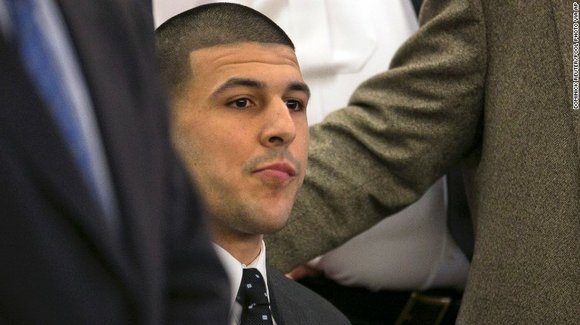 Hernandez then took out the gun and told Bradley to roll his window down and lean back in his seat, Bradley said. From the passenger seat Hernandez leaned across Bradley, stuck his arm with the gun out the window and yelled "Yo!" to the BMW, according to Bradley.
The occupants of the BMW did not react, so Hernandez yelled "Yo!" again to get their attention, Bradley said.
"What's up now, ns?" Hernandez then said, and fired five shots into the vehicle, according to Bradley.
Bradley said they then drove away from the bloody scene and onto the highway. The two were both "panicked" and in a "state of shock," Bradley said.
"I got one in the head, one in the chest," Hernandez said, according to Bradley.
Hernandez then wiped the gun down with his shirt and threw it and the shells out of the window, Bradley testified.
"I remember him saying, 'Don't tell anybody,'" Bradley said. "He just said, 'Don't say nothing.'"
Bradley said he then drove to his girlfriend's house, where Hernandez turned on the TV to watch news reports of the shooting. Hernandez's cousin Tanya Singleton arrived and Hernandez told her to take care of the 4Runner, Bradley testified.
Prosecutors have said that vehicle was later found at Singleton's house.
The aftermath
Hernandez became "extremely paranoid" after the shooting, Bradley said. He had a "no iPhone rule" among his circle of friends, thought helicopters were following him and feared law enforcement was on to him, Bradley said.
Hernandez and Bradley's friendly relationship fell apart during a trip to South Florida in February 2013 to attend a Super Bowl party. At a bar, Hernandez pointed to some men who he said looked like police officers, Bradley testified.
"If they are, it's because of the stupid sh*t you did up in Boston," Bradley said he told Hernandez. The comment caused Hernandez to become upset and walk away, he testified.
Later that night, Bradley rode home from the bar with Hernandez and other passengers, and they got into a heated argument, he testified. On the way home Bradley said he fell asleep in the car.
When Bradley woke up, he testified, he saw "Mr. Hernandez with a gun to my face."
Hernandez shot Bradley between the eyes and then pulled him out of the car and left him to die, Bradley testified. In court on Monday, Bradley showed a large scar between his eyes and explained that his right eye was a prosthetic.
The shooting occurred in an industrial park near Riviera Beach, Florida. At the time, Bradley told a man who came to his aid that "two black males" had shot him, and he refused to cooperate with detectives looking into the shooting.
He testified that he did not want to tell on Hernandez but instead "wanted to make it even."
"I didn't want to cooperate with police," Bradley testified. "I wanted Mr. Hernandez's life."
When Bradley recovered from the shooting, he said he called Hernandez on the phone to let him know he survived.
"He was definitely surprised when he heard from me," Bradley said. "He definitely didn't think I was alive still."
Hernandez also is charged with witness intimidation in Bradley's shooting.