Scared and Planning for the Worst: Immigrants Brace for Deportation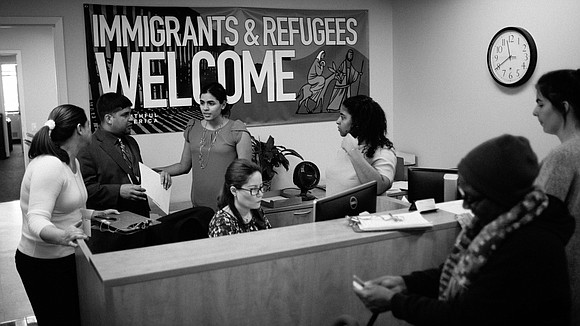 Olga is from Venezuela. She's in the United States legally, but her visa expires soon and she's here to find out how to apply for asylum -- to escape the political and economic instability in her country.
Her daughter, Maria, is a college student in New York and speaks English, so she accompanied her mother to Catholic Charities.
"They said we need proof," Maria says, explaining the asylum process. But, she adds, it's impossible to prove the risks her mother faces in her home country.
"A person who tells you to your face, 'I'm going to hurt you,' we cannot have proof of that. We have no proof that she's scared."
Maria would also prefer to remain in the United States after college. She says she's going to look for jobs here after she graduates but worries it might be hard to stay.
"It's difficult to think that we're going to have to go back to our country," Maria says. "We don't want to go back."
If things don't work out here, maybe they'll go to Canada. Her brother lives there, and Maria says she hears it's easier there.
Albertina is here to make a plan, to be prepared for the worst. She is undocumented and wants to fight if she is detained or deported. She is so afraid that she doesn't want her face to be photographed.
She came to the United States from Guatemala seven years ago, leaving her four children behind. Like others, she wanted to escape poverty and violence, to fight for a better life for her children.
Now, two of them -- 14 and 17 -- have joined her. They are also undocumented. The other two -- 12 and 19 -- remain in Guatemala. Albertina's wages from babysitting help her pay rent for homes here and for her children in Guatemala.
If anything happens to her, she doesn't want her children here to have to return to Guatemala.
Has she thought about who will be their guardians in case she is deported?
No, she responds quickly. There is nobody.
Her children's father came to the United States and disappeared, she says, and her children in Guatemala live alone.
Clusters of families wait in groups, whispering to each other, babies crying in strollers, preteens playing on parents' phones, a grandmother clutching her rosary as she waits for her name to be called.
Margarite is here with her 10-year-old daughter. Margarite is undocumented and has lived in the United States for 13 years.
Her 78-year-old mother is sick, and Margarite wants to return to Mexico to care for her. But she's worried that if she leaves the country, she won't be able to come back.
She's here to figure out if she can get a visa and what's possible for her and her family. She says she's been the victim of violence and hopes that will help her get a visa.
She's talked to her four children about what happens if she's deported. Although they were all born here and are US citizens, they've decided they want to stay together. So if she gets deported, they would go with her.
Her children tell her they're scared, they don't want her to get deported.
"I'm trying," she tells them.
The lawyers at Catholic Charities say they have forms for people to fill out, but they advise the immigrants who have come here today to go home and think about what these forms mean before signing and filing anything.
Do they want to give temporary or permanent guardianship of their children to someone else? Do they need to give others access to their finances?
The paperwork is the easy part, but these are difficult decisions.
CNN en Español's Jeffrey Kopp contributed to this story.