Trump, Ryan Go Public with Fight Against Freedom Caucus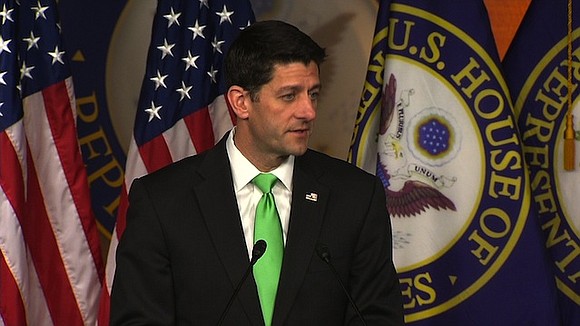 The idea that Trump could turn away from his own party at this stage is, to a degree, theater designed to spook the far-right of the party into line. It was a message echoed by Trump administration officials the weekend after the health care failure and repeated Thursday by Ryan, multiple people involved say.
Trump's tweets, showing an increasingly aggressive and hard-edged view of the Freedom Caucus, represent his own unfiltered take on a group that is viewed inside the White House as threatening ambitious agenda
For the moment, there's limited evidence that real work towards wrangling Democrats for Trump's agenda is taking place and even less evidence enough Democrats exist to make any effort along those lines worthwhile.
But, sources say, it's a threat that could eventually ring true if the Freedom Caucus doesn't change its tune. After all, the President is not particularly tied into conservative orthodoxy. So while the most recent comments fit into a loosely designed deliberate campaign of sorts now, there's no question it could become very real if Trump decides it's the only way to strike any kind of deal.
Ryan enforced that message in the CBS interview, suggesting that Trump's patience was not infinite and he could be tempted to work with the other side if Republicans refuse to implement his agenda.
"What I am worried about is ... that if we don't do this then he will just go work with Democrats to try and change Obamacare -- that's hardly a conservative thing," Ryan said.
"I'm going to let the tweet for itself," White House spokesman Sean Spicer told reporters.
Freedom Caucus member Rep. Justin Amash said Trump has surrendered to the Washington swamp he promised to fight.
"It didn't take long for the swamp to drain @realDonaldTrump. No shame, Mr. President. Almost everyone succumbs to the D.C. Establishment," the Michigan Republican, tweeted.
Freedom Caucus Chairman Mark Meadows, uncharacteristically declined to weigh in on Trump's tweet.
"I don't have anything to say at this point. No comment," he told CNN. "No comment. I try to always be accessible, but no comment."
Rep. Dave Brat, a Freedom Caucus member from Virginia, told reporters that he's not going to weigh into drama.
"I don't get involved in any of that drama business," he said.
He maintains members had and "artificial time line" of three weeks to digest a major part of the economy, and he's still committed to repealing more regulations than the House bill did.
Will primary against Freedom Caucus members help Trump?
Rep. Scott DesJarlais, a Tennessee Republican, was an early supporter of Trump and he said he still has a good relationship with the White House and that getting him out of office might only be worse for Republicans trying to move legislation through.
"In my district, we're very conservative so If he gets me out of office, he's going to get someone more conservative than me," DesJarlais said.
"I think what happened needed to happen," he added. "We were pressured under what looked to be a bad deal, we walked away, and now cooler heads are prevailing. We're discussing this the way we should without a deadline, and we'll bring it back when its right."
DesJarlais said he's not worried about Trump's Twitter account.
"I know what my relationship with the White House is with Tom Price is, Mick Mulvaney, Mike Pence and Donald Trump so I am not gonna get all hung up about a tweet," he said.
CNN's Stephen Collinson contributed to this report.