Stephen Hill OUT At BET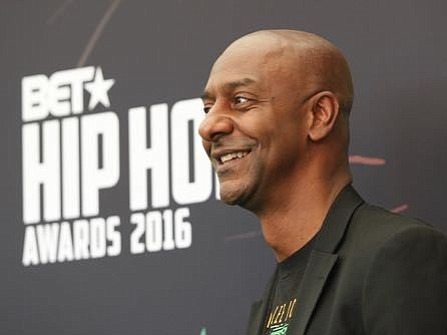 LOS ANGELES (AP) — Executive changes are afoot at BET Networks.
The cable channel said Wednesday that its programming president, Stephen Hill, is stepping down. BET also announced that executive vice president Zola Mashariki is leaving.
Connie Orlando, a BET senior vice president, will serve as interim programming chief after Hill's departure Friday.
Last month, Viacom's CEO identified BET Networks as one of the brands the media conglomerate intends to focus on. Others cited by Viacom chief Bob Bakish included Comedy Central and Paramount Network, the rebranded Spike TV.
The changes come a month before BET Networks presents its upcoming schedules to advertisers.
BET's recent programs included "The New Edition Story," a miniseries about the R&B group that was a ratings success.
Here is the email BET CEO Debra Lee sent out:
Dear BET Team,
I want to let you know that Stephen Hill, President of Programming for BET Networks has decided to step down from his role.
Stephen joined Viacom in 1995, and then BET in 1999, serving as President of Music Programming and Specials before taking on the role as President of Programming.
Stephen has earned a reputation as one of the leading creative minds in television and music. His contributions to the team have been invaluable as we worked together to successfully reinvigorate our brand.
Who could ever forget THE Prince Tribute, James Brown and Michael Jackson, Beyoncé & Kendrick Lamar? This list can go on and on. The incredible "awww yeahhh" moments Stephen has created during his 18 years literally are too many to mention.
I recently told the story of the first time I saw Stephen dancing in the aisle with red pants! I knew that was the spirit needed to take BET to the next level. And that was exactly what he did. His programming vision helped to create 106 & Park, The BET Awards, The Hip Hop Awards and hits such as Real Husbands of Hollywood, the amazing success of The New Edition Story and many, many more.
Most importantly, Stephen has been a trusted colleague and friend to many of us. We are fortunate to have enjoyed his service, creativity and laughter for so many years. I can't imagine this ride without his energy, passion and love of BET.
Thank you Stephen for every awesome and magical moment, I know this won't be our last dance. I know your dedication to BET will still live on in everyone you've touched over the years.
Please join me in thanking Stephen for all the love and support he has given BET over the course of his remarkable career.
Let's wish him well in his next adventure.
Best,
Debi
And Stephen's email to the staff:
My first morning at BET was the day after Roger Troutman died. WKYS, WPGC and WHUR were all full with the music of Zapp and as I drove the car (that I still own) down New York Avenue in DC towards the BET Complex, I thought to myself "we'll need to get the details and some footage quickly so that we can get something on the air today about Roger".