A Golden Partnership for Youth Athletics Amateur Athletic Union Track and Field and Carl Lewis Announce Innovative Collaboration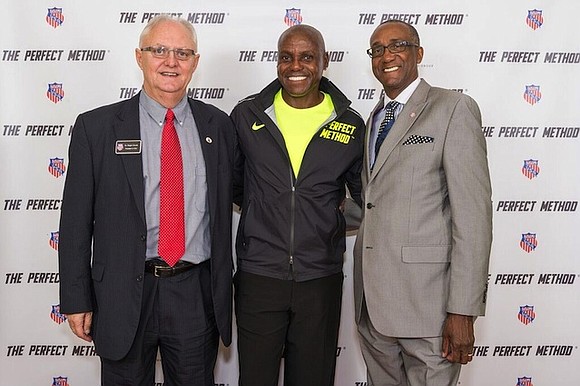 "The mission of AAU is to provide positive competitive opportunities for the youth of America. Carl Lewis is an iconic figure in the sport of track and field and a product of the AAU program," Coach O. stated. He added, "Our partnership with Carl Lewis and The Perfect Method will provide AAU Track and Field the opportunity to have a global reach as we seek to impact young athletes and their families with our message of academic and athletic excellence."
ABOUT THE PERFECT METHOD
The Perfect Method is Carl Lewis' subscription-based web portal and soon-to-be app that educates and motivates all kinds of runners and coaches to be their best. It combines the knowledge of the world's most elite coaches with the wisdom of the world's most decorated track and field champion. The Perfect Method curriculum focuses on three key areas of improvement: physical readiness, technical skills, and mental preparation. Reinforced by specific examples from Lewis' career and experiences, lessons taught in The Perfect Method are accessible anywhere and easy to understand. As a step-by-step program, The Perfect Method includes practical tools to measure progress along the way.
For more information, please visit www.theperfectmethod.net
ABOUT THE AMATEUR ATHLETIC UNION (AAU)
Founded in 1888, the Amateur Athletic Union (AAU) is one of the largest, nonprofit, volunteer, event organizations in the United States. The "Sports for All, Forever" philosophy is shared by over 700,000 participants and 150,000 volunteers. The AAU annually licenses 35 sports programs and more than 375,000 licensed events each year. A multi-sport organization, the AAU is dedicated exclusively to the development of amateur sports. Visit www.aausports.org for more information.