AboutThatCar.com: 2017 Jeep Compass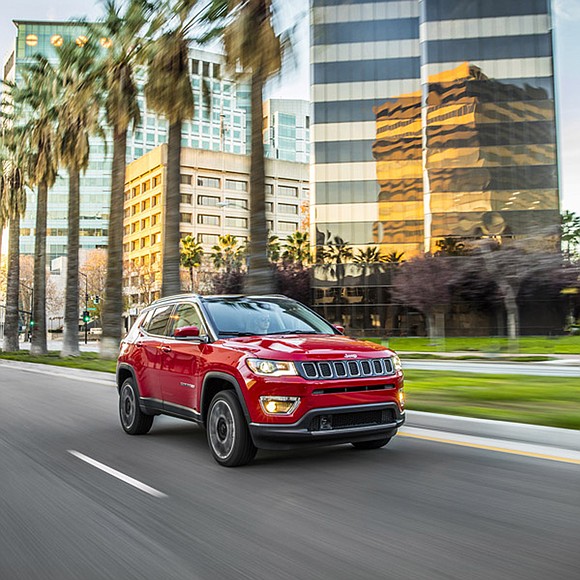 This setup brings us to one of our quibbles. There was a very small storage bin in the center console but that was it. There wasn't any place to put anything of size, like a cell phone, on the console. However, further back between the front seats there was a covered storage bin that doubled as an armrest.
The dash featured textured soft touch material as well as red stitching. Our tester did not have a moonroof but one is available. And the seats were really comfortable. The cushions were long and that helped lower leg support. Sight lines were good and there was plenty of room for two adults up front; there was no bumping of elbows.
It rained like crazy the night before the test drive. The Compass can fjord up to 19-inches of water and in a couple of places it seemed like it was that high. It wasn't but there was more water than on traditional test drives.
It would not be a Jeep product launch without an off road course. This one was short and intense. We got the chance to get through some mud and through some uneven deep depressions in the soil that had one or two wheels off the ground and over some sizable rocks that qualified as boulders. The Compass handled the course without much hassle.
On the way to the off road course, we experienced our second quibble. When we turned left onto 288 just outside of Blanco we held the pedal to the metal, literally, and the 2017 Jeep Compass really didn't get up and go. Acceleration was so-so. If not more horsepower, then certainly a bit more low-end torque would be nice.
Our driving partner thought the Compass a bit bouncy but we didn't. We both agreed that handling was great. One likable thing was that the compass on the navigation system displayed the direction that we were driving rather than constantly pointing north leaving to the driver to figure out the direction the Jeep Compass was headed.
It had push button start as well start/stop, technology. The fourth generation of Uconnect was employed with its hands free communication, entertainment and navigation features. There was Apple CarPlay that would play Apple music through Siri Voice control, as well as Android Auto, Google Voice Search, Google Maps and Google Play Music.
There was satellite radio, Bluetooth, a CD player, USB and auxiliary jacks as well as a 12 volt plug. There was an eight-way power driver's seat and both front seats were heated.
The 2017 Compass lived up to its name. In other word's it upholds the finest tradition of Jeep.
Frank S. Washington is editor of AboutThatCar.com.