5 Things for November 3: It's Here, But Taxing Questions Remain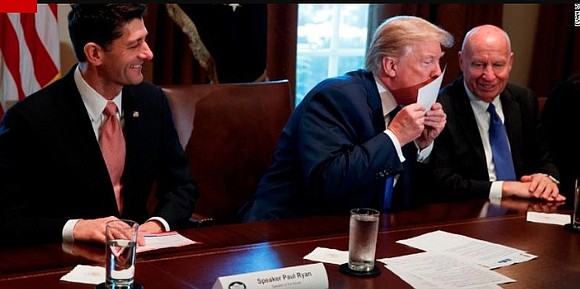 By AJ Willingham, CNN
(CNN) -- The President's Twitter account went down for a few minutes Thursday night, and Twitter says it was the work of an employee on the last day at the company. Talk about going out with a bang! Here's what else you need to know to Get Up to Speed and Out the Door.
1. Tax reform
It's finally here. House Republicans revealed their new tax bill Thursday, and though President Donald Trump has voiced his approval, he admits there is "much work left to do."
Major provisions of the bill include decreasing the number of tax brackets from seven to four, reducing the top corporate income tax rate and increasing the standard deduction, which could affect some popular tax breaks for individuals such as mortgage interest, state and local taxation, charitable giving and student loan interest.
Republican leaders acknowledge the fight ahead but insist that, overall, this is a plan that will give a generational lift to the middle class -- despite Democratic assertions it is just another disguised giveaway to the GOP's rich friends.
2. Democratic National Committee
Sen. Elizabeth Warren says she believes that the Democratic National Committee was "rigged" in favor of Hillary Clinton during the 2016 primary.
Warren said so Thursday after being asked by CNN's Jake Tapper whether she believes that the Democratic campaign organization was tipped in favor of Clinton over her primary opponent, Sen. Bernie Sanders
Her comments came in response to an excerpt from a new book by Donna Brazile, former interim chair of the Democratic National Committee, detailing the final months of the 2016 campaign. In the excerpt published in Politico this week, Brazile says Clinton's team was given operational control over the party committee before Clinton was the nominee because of the massive amounts of funds it raised for the DNC.
Brazile's story points to a longstanding rift among Democrats that casts concern over how the party will handle its opportunities in the 2020 election.
3. The Weinstein effect
Another day, and more allegations. Kevin Spacey is now facing a series of accusations from employees on the set of the Netflix show "House of Cards." Eight people who currently work on the show or have worked on it in the past told CNN that the star turned the set into a "toxic" work environment through sexual harassment and abuse. One former production assistant told CNN that Spacey sexually assaulted him during one of the show's early seasons. Earlier this week, actor Anthony Rapp accused Spacey of making sexual advances to him when Rapp was 14 years old.
Spacey issued an apology in response to Rapp's account. When asked about the new allegations, Netflix said in a statement to CNN that it sent a representative to the "House of Cards" set Monday. Spacey did not respond to CNN's request for comment about the latest accusations.
Meanwhile, director and producer Brett Ratner has filed suit against a woman he says defamed him by alleging he raped her. Six women have come forward saying Ratner harassed or assaulted them, but the woman in question is an additional accuser who accused Ratner of rape in a Facebook post. Ratner denied the other accusations earlier through his attorney.