Avant-Garde Cuisine Highlights Mexican Ingredients During The Best of Cocina de Autor Riviera Maya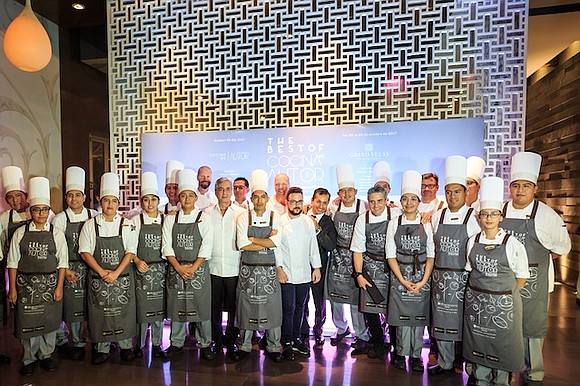 Mexican cuisine is experiencing a moment of explosive change, and that was apparent during Grand Velas Riviera Maya's latest culinary festival, Best of Cocina de Autor.
Six of the world's best chefs, known internationally for their trend-setting culinary art, shared their creative cuisine as part of a 10-course tasting menu. The culinary event focused on the aromas, textures and flavors of Mexican ingredients, showcasing showcased artful dishes highlighting the best products of the Yucatan peninsula.
"The fun in putting on an event like this is to create a space where chefs can collaborate and share their talents and techniques," said Velasco.
The special tasting menu was offered over four nights at the resort's Cocina de Autor restaurant, the first and only restaurant in the world that's part of an All-Inclusive to hold the AAA Five Diamond Award. The dinner was complimentary for resort guests, included as part of their stay.
Participating chefs included:
• Mikel Alonso and Bruno Oteiza, disciples of Spanish superstar Juan Arzak, owners of Biko in Mexico City, which has been recognized as one of the 50 best restaurants in the world.
• Xavier Pérez Stone, opening executive chef and now consulting chef at Cocina de Autor in Grand Velas Riviera Maya who has held the titles of "Best Chef in Mexico" and Canada's "Iron Chef;"
• Sidney Schutte, pupil of Dutch top chef Richard Ekkebus and two-star Michelin chef who heads up Grand Velas Los Cabos' signature Cocina de Autor restaurant. That restaurant has been cited among the best new restaurants of 2017 by CNN;
• Josean Alija, alumnus of superstar Catalan chef Ferran Adrià and executive chef of Nerua Guggenheim Bilbao, a one-star Michelin restaurant ranked annually among The World's 50 Best Restaurants; and,
• Nahum Velasco, host of the event and head chef at Grand Velas Riviera Maya's Cocina de Autor.
The Grand Velas Riviera Maya has been holding gastronomic events since 2015 with the purpose to spotlight the culinary excellence the resort put on display every day at Grand Velas Riviera Maya.
Grand Velas' other gourmet restaurants include Frida, which showcases traditional Mexican food; the Asian restaurant Sen Lin; French restaurant Piaf and Lucca, which offers spectacular Italian cuisine.
More at www.rivieramaya.grandvelas.com.