America's Cup: How Life Has Changed for New Zealand's Winning Sailors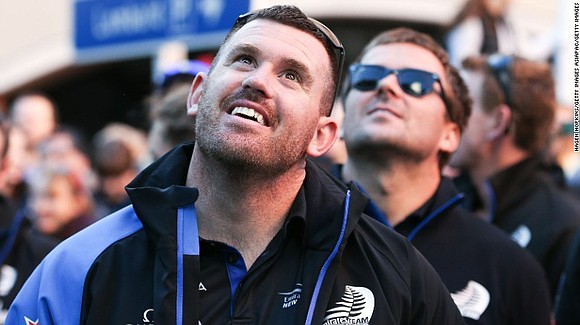 "And on the tour, it's been funny hearing people's stories about the Cup, getting up at 4 a.m. to watch the races and screaming at the screen early in the morning."
An America's Cup future?
Both laugh at the suggestion that their America's Cup success has turned them into superstars back at home.
Only once has Sullivan, who took a year off from his job in the fire service, been recognized on active duty -- and that was by one of the Team New Zealand design team while he was attending an incident near their Auckland base.
"There's no tall poppies in New Zealand, people are all pretty humble," says van Velthooven.
Whether either of them have an America's Cup future remains to be seen.
The next America's Cup, to be raced in 2021, will feature high-performance monohulls instead of the twin-hulled flying machines of Bermuda earlier this year.
Whether Team New Zealand will retain the cycling pedestals to turn the winches, instead of reverting to traditional arm power, remains to be seen.
Both Sullivan and van Velthooven are keeping up their fitness, with one eye on building up their arm strength. In addition, both are committed to sailing more.
"I'd like to think that after sweating blood in Bermuda I'd be on the list to be considered," said van Velthooven. "I've still got a big motor and my heart still knows how to pump.
"The next boat will be mega, it's America's Cup so it'll be high-end performance, and they'll still need the horsepower. Plus, I feel I learned a lot just listening into the comms through the Cup in Bermuda."
Sullivan says: "I haven't got a clue about my America's Cup future but I'm still fully committed to it. We're not in the loop on the design process so I just have to remain fit and ready."
For now, the pair are relishing life on dry land, and some of the parties that have followed what proved to be a comfortable Cup win.
Visit CNN.com/sailing for more news, features and videos.
But, as van Velthooven puts it: "Life goes on. Admittedly there's a few more yarns but life still goes on."