Born Before 22 Weeks, 'most premature' Baby Is Now Thriving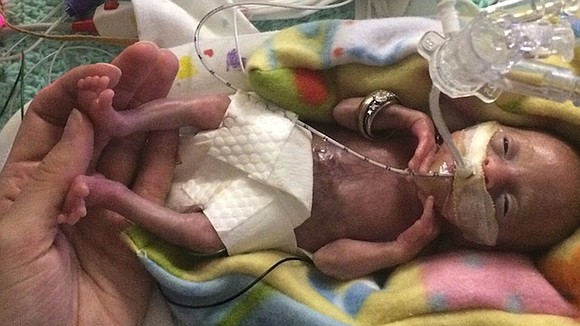 'She very slowly changed colors from blue to pink'
Around the world, an estimated 15 million babies are born too early -- before 37 weeks gestation -- every year, according to the World Health Organization.
Last year, preterm birth affected about one of every 10 infants born in the United States, according to the Centers for Disease Control and Prevention.
There has been an increase in the prevalence of preterm births in the United States, with an additional 8,000 babies being born prematurely last year due to a rise in the preterm birth rate between 2015 and 2016, according to a report released Wednesday from the nonprofit organization March of Dimes.
Pediatric and obstetric professional society guidelines are routinely updated to answer that challenging question of when resuscitating a preterm baby should be recommended or not.
The question also remains imperative for neonatologists who care for infants' medical problems. The answer to such a question remains tangled in concerns of ethics, health care costs and lifelong health outcomes for an infant.
Now, Ahmad hopes this latest case can help guide the pursuit for the right answer, he said.
In the new case report, Ahmad and his colleagues describe how they resuscitated Stensrud's daughter and how she needed prolonged care in the neonatal intensive care unit, known as the NICU. She wasn't discharged from the hospital until 126 days after being born.
Stensrud went into early labor due to a premature rupture of membranes and a common infection of the placental membrane called chorioamnionitis, according to the report.
When Ahmad and his colleagues entered Stensrud's labor and delivery room, they were not expecting to resuscitate the preterm baby, he said.
"But when the mother asked that we do everything for her daughter, despite having no reason to believe the baby would survive, I just made the decision to proceed with a vigorous resuscitation," Ahmad said.
"So we placed her under an overhead warmer, we listened, and we heard her heart rate, which we were not necessarily expecting," he said. "We immediately placed a breathing tube in her airway. We started giving her oxygen, and really pretty quickly, her heart rate began to rise. She very slowly changed colors from blue to pink, and she actually began to move and began to start breathing within a few minutes."
By 2 years old, even though she was smaller in size than her peers, Stensrud's daughter achieved scores that were average for a child around 20 months on Bayley III tests, according to the report. The tests, intended to measure child development up to age 3, assessed her cognitive, motor and language abilities.
"For this little girl, we say that her fine motor was age equivalent of 20 months," Ahmad said.
"That is what we would expect the average 20-month baby to do," he said. "She was at that time 24 months, but as we noted in the case, if you take into account how many weeks early she was, she was actually about 20 months, corrected."