North Korea On Trump's Speech: We're done listening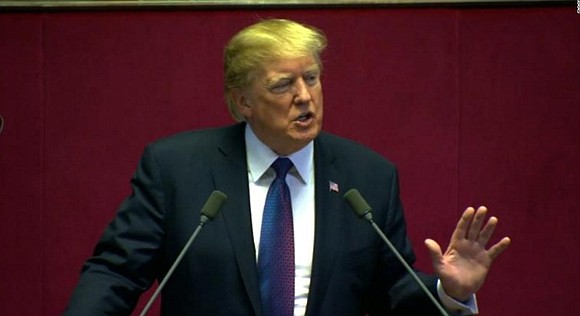 By Will Ripley and Joshua Berlinger, CNN
(CNN) -- North Korean officials were closely watching US President Donald Trump when he addressed the South Korean National Assembly Wednesday, but they say they weren't listening.
Though the American leader's tone was more subdued -- and he proposed what some perceived as a conditional olive branch -- officials in Pyongyang authorized to speak for the government told CNN when it comes to Trump, "we don't care about what that mad dog may utter because we've already heard enough."
Pyongyang accuses Trump and the United States of heightening tensions to a level not seen since the Korean War ended in an armistice in 1953. They say it's actions not words that matter, pointing to three US aircraft carriers and a submarine currently off the coast of the Korean Peninsula.
"The United States is threatening us with nuclear aircraft carriers and strategic bombers. They are challenging us with with the most vicious and demeaning provocations but we will counter those threats by bolstering the power of justice in order to take out the root cause of aggression and war," the officials said.
Trump did hint at a chance of diplomacy to resolve the standoff, but only if North Korea were to stop its provocative behavior, quit developing ballistic missiles, and agree to "complete, verifiable, and total" denuclearization. Most Korea-watchers believe that last item is a non-starter.
"The prospect of the North Koreans actually denuclearizing is near zero," said Michael Hayden, a former head of the CIA and the NSA. "They are not irrational in this regard, they've seen what happens to states who have given up their nuclear programs and they're trying to hold on to this as a matter of regime survival."
Adam Mount, a senior fellow at the Federation of American Scientists, told CNN he was particularly concerned that Trump sees North Korea giving up its nuclear weapons as a starting point, not an end of the negotiating process.
"He held to the same old insistence on complete, verifiable denculearization, without a plan to get there, which we didn't hear," Mount said. "That insistence will prevent any kind of forward progress."
The audiences
Though Trump stood before South Korean lawmakers, his audience was likely more global.
"It was a tough speech," said Hayden. "It wasn't over the top, it wasn't beyond the edge. No rocket man and no fire and fury, no over-posturing about imminent action on the part of the United States. Now, that said, he didn't point out an obvious off-ramp, as to how we get out of the circumstances that we're in."
That may have not gone over well in the National Assembly chambers, where many politicians are concerned about the potential of a catastrophic conflict.
"Trump refrained from making really aggressive military threats and that will be appreciated in Seoul. The text of his speech really illustrated the historical and moral struggle going on on the Korean Peninsula, sometimes in very evocative terms. I think the Korean people will appreciate that too," said Mount.