Swap Kevin James for Kevin Spacey? TV's Pulled Switcheroos Before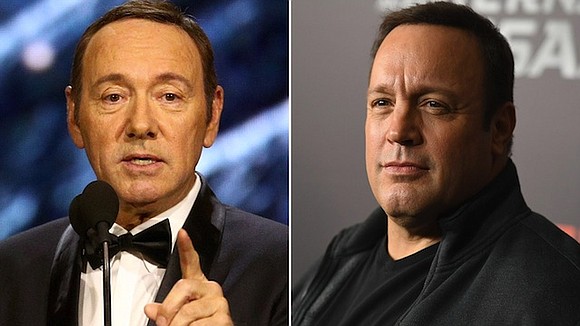 By Lisa Respers France, CNN
(CNN) -- Imagine Kevin James as Frank Underwood on "House of Cards."
There is an online petition suggesting just that -- believe it or not -- and as of Tuesday, nearly 30,000 people have signed on to endorse the idea.
"Losing a great show is hard, no matter the circumstances," the petition reads. "However with hardship comes the opportunity for a great show to become one of the greatest television shows of all time. I think Kevin James can elevate 'House of Cards' to a globally adored franchise like 'Game of Thrones' and make the entire world focus on one of the most important Netflix original series there is."
It's doubtful one Kevin will replace the other, but let's not pretend that television hasn't pulled big swaps before.
Here are a few examples:
Donna's death on "Kevin Can Wait"
James is currently starring in the CBS sitcom "Kevin Can Wait," which recently killed off his character's wife, played by Erinn Hayes.
Now, killing off a character is not out of the ordinary, but the show managed to make this particular plot twist especially awkward.
Some "Kevin Can Wait" viewers complained that series treated the character's death too lightly, making a joke about her gym sending a postcard saying she was missed.
James's character tells his daughter not to toss the card because "on the bottom, there's a coupon for a Kung-Fu lesson. I want to go there."
James's former "King of Queens" costar, Leah Remini, was added to the cast, effectively making the show feel like "King of Queens 2.0."
Original vs. new Becky on "Roseanne"
Fans still like to argue over who was the better Becky on the hit 1990s sitcom "Roseanne."
Actress Lecy Goranson played the eldest Conner child for the first five seasons, before leaving to go to college.
Sarah Chalke was then recast in the role for Season 6, which some viewers didn't love.
Goranson tried to work with the show -- reprising her role in Season 8 -- but ultimately Chalke became Becky full time.
The whole thing turned into a running gag on "Rosanne," which would sometimes include jokes about the missing Goranson.
The forthcoming "Roseanne" revival is set to have Goranson back as Becky and Chalke in another role.
What happened to Judy on "Family Matters?"
Judy Winslow went upstairs to her room one day and was never seen or heard from again.
At least that's how fans of ABC's "Family Matters" felt like it all went down.
The sitcom, which ran from 1989 to 1997, made the character Steve Urkle famous. But it was the disappearance of young Judy after four seasons that many viewers still talk about.
Jaimee Foxworth, the actress who portrayed Judy, is now 37.
"The producers felt that they could do it [disappear her character] and no one would notice," Foxworth recently told The Root
"They'd done it with previous shows they had," she said. "They figured no one would really care. My fans took notice of it."