UK Minister Priti Patel Under Fire Over Secret Israel Trip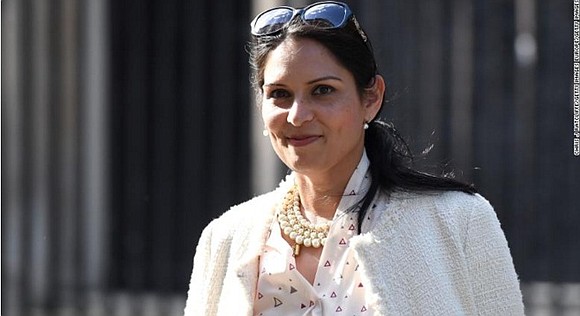 By Laura Smith-Spark, CNN
(CNN) -- A British government minister has been summoned back to the UK from Africa amid a growing storm about undisclosed meetings with Israeli officials that threatens her future in Prime Minister Theresa May's embattled administration.
Priti Patel, the UK Secretary of State for International Development, is under pressure after it was revealed that she held unauthorized meetings with senior Israeli officials during a family holiday in the summer.
The opposition Labour Party has called for an investigation into her apparent breaches of protocol.
During the visit, Patel, who paid for the trip herself, met with a dozen politicians and organizations, including Israeli Prime Minister Benjamin Netanyahu and Yuval Rotem, a senior Israeli Foreign Ministry official.
She also met with Yair Lapid, the head of Yesh Latid, one of Netanyahu's coalition partners, who tweeted about their meeting.
Patel's press office confirmed that she had cut short her official trip to Africa to travel back to Britain on Wednesday, amid widespread speculation in the UK media that May would be forced to sack her.
If confirmed, Patel's departure would throw May's Conservative government into further chaos following the sudden resignation last week of Defense Secretary Michael Fallon, who stood down after becoming embroiled in a mounting Westminster sexual harassment scandal. Adding to the turmoil, May's de facto deputy, Damian Green, was forced to deny allegations at the weekend that "extreme" pornographic material was found on his work computer in 2008.
In another shocking development, former Welsh government minister Carl Sargeant, who was sacked last week after undisclosed allegations about his personal conduct, was found dead on Tuesday. He had apparently killed himself, the UK Press Association reported.
Meanwhile, Foreign Secretary Boris Johnson was forced to backtrack Tuesday over comments he made about a British-Iranian woman, Nazanin Zaghari-Ratcliffe, who is currently jailed in Iran accused of espionage, following an outcry from her family and other lawmakers.
The scandals are an unwelcome distraction at a time when May, who failed to win an overall majority in June's general election, faces an uphill struggle in ongoing Brexit negotiations.
Her government is also under pressure from Labour to release secret documents detailing the economic impact of withdrawing from the European Union.
Patel forced to clarify comments
According to the UK Foreign Office, Patel's meetings in Israel were not disclosed in advance, but rather "while (her trip) was underway." By convention, ministers' meetings with foreign officials are conducted under strict protocol. Any private meetings should be disclosed in advance.
News of Patel's meetings with Israeli officials emerged in the UK media at the end of last week. In an effort to explain her actions, Patel told the Guardian that Foreign Secretary Boris Johnson knew about her trip.
However, Patel was forced on Monday to correct the record and make clear that the Foreign Secretary was not informed in advance of her trip to Israel, but became aware of it while she was there. In the same statement, she clarified that she had met with a dozen Israeli politicians and organizations.