Toyota NASCAR, POWRi Victories and Championship Highlight Weekend
Toyota drivers compiled five wins in NASCAR and POWRi competition, as well as a championship in the NASCAR K&N Pro Series East in racing action over the weekend.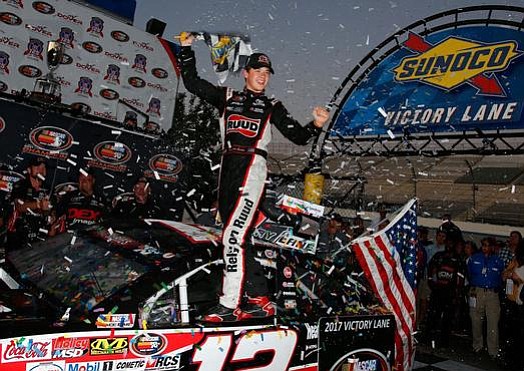 NASCAR
Kyle Busch won Sunday's Monster Energy NASCAR Cup Series Playoff event at Dover International Speedway when he made a late-race pass by Chase Elliott to earn his second consecutive win in as many races.

"It's no doubt the moment that you live for," Busch said of his late-race pass for victory. "It's the moment that all these guys live for and what we do with this M&M's Caramel team and this Toyota Camry was not the best there early on, but we made a lot of gains on it and got it where it was really good there at the end."
Busch started second in the Joe Gibbs Racing No. 18 Camry and led four times for 30 laps (of 400) in the final Round 1 event of the Playoffs en route to his fourth win of the season and 38th victory behind the wheel of a Camry in Cup Series action.
In addition to Busch's win, Martin Truex Jr. finished fourth for Toyota. Truex started Sunday's race from the pole position and led the field three times for 51 laps.
"It seemed like on the short run we weren't quite good enough and then on the long run we still weren't quite good enough. We were just off a little bit all day,"Truex added. "Fired off the start of the race there and it took off really good and I thought well we might be in for a great day. And then once we got back after that caution caught us back in sixth or so, we could just never get back there. Thought maybe we should have been second or third, but that last run just really went away on us."
Toyota won all three Playoff races in Round 1 with Truex's win at Chicagoland to begin the Playoffs and Busch's two most recent wins. Busch and Truex automatically advanced to the Round of 12 with their respective victories and fellow Camry playoff competitors Denny Hamlin and Matt Kenseth also advanced to the second round with their point's positions.
In Saturday afternoon's NASCAR XFINITY Series (NXS) race at Dover, Camry drivers Matt Tifft (sixth) and Daniel Suárez (seventh) recorded top-10 finishes.
Tifft now sits seventh in the XFINITY Series Playoff standings, and is currently inside the eight-driver cutoff which will take place following this Saturday's race at Charlotte Motor Speedway.
"We kind of knew today that we were going to have an uphill battle starting from the back, but then right off the bat we got smacked in the back," Tifft explained. "I was hoping the damage wasn't going to be too severe and it wasn't – it didn't affect us at all. It was a great day for our team. We just need to keep that consistency rolling through next week in Charlotte."
Tundra driver Ben Rhodes waited until the 2017 NASCAR Camping World Truck Series (NCWTS) Playoffs to claim his first-career victory and did so by holding off his fellow title contender and Toyota teammate Christopher Bell at Las Vegas Motor Speedway on Saturday night.