Hurricane Irma: Florida Faces Days Without Power After Deadly Storm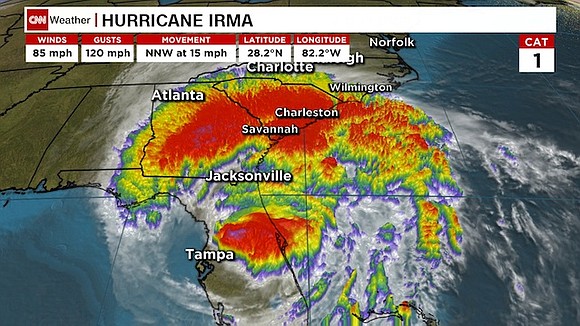 By Steve Almasy and Faith Karimi, CNN
(CNN) -- Hurricane Irma may be gone, but days of darkness and devastation are just beginning in Florida.
Residents could go for days without power after the storm uprooted homes, trees and power lines, leaving 4.4 million customers without electricity statewide in simmering temperatures, officials said.
"Temperatures will be around 90 for many, especially central and southern Florida for the next several days," CNN meteorologist Taylor Ward said. "High humidity will make it feel like the low to mid-90s. While it isn't above normal, it's certainly warm and humid which is miserable without power."
Before making landfall in the Florida Keys, the hurricane killed 38 people in the Caribbean islands. At least 17 storm-related deaths have been reported on the US mainland, according to officials.
As Irma left Florida and marched across the southeast this week, it knocked out power in Georgia, Alabama, South Carolina and North Carolina. With the sweltering temperatures, restoration of power is crucial, Florida Gov. Rick Scott said.
"After visiting shelters this week and talking to people who evacuated due to Hurricane Irma, the number one thing I heard from families is that they want their power back on," Scott said.
Customers who lost electricity on the eastern side of Florida will likely have power restored by this weekend because fewer electrical poles came down in the storm than in other parts of the state, Florida Power & Light said Tuesday.
Customers on the west coast of Florida, where Hurricane Irma made landfall, will likely have power restored by September 22, according to the company.
The company is focusing on first restoring power at schools, hospitals and other critical infrastructure.
"While FPL has invested nearly $3 billion to build a stronger, smarter energy grid, with this powerful of a storm, customers should prepare for potentially prolonged power outages," the company said.
'FPL please'
As Florida residents return home from evacuation centers to survey the damage caused by Irma, some are imploring utility companies to work faster to restore power.
In Islamorada, resident Chris Crooks made a sign for Florida Power & Light company.
"FPL please," the sign simply said, with an arrow pointing to his street. He said he's tried to reach out to the company on social media but his power is still out.
"Maybe somebody can see because I've done all the Facebook stuff and I've done all the apps and this and that ... and they're just 'we're getting to you, we're getting to you," he said.
Several states affected
Massive power outages crippled much of the southeast Tuesday. Among the hardest hit by Irma:
FLORIDA: About 4.4 million customers are without power across the state, authorities said. They include homes, organizations and businesses.

GEORGIA: Almost 700,000 customers are in the dark, according to Georgia Power and Georgia EMC.

SOUTH CAROLINA: Almost 55,000 customers have no power, according to Duke Energy and SCE&G

NORTH CAROLINA: More than 29,000 customers don't have electricity, according to Duke Energy.

ALABAMA: More than 7,000 customers are without electricity, Alabama Power said.