Isolated, Trump Embraces New York Friends -- And Instincts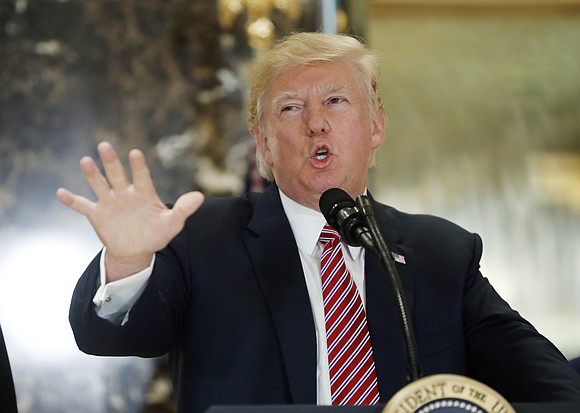 In learning to navigate Congress' diverse legislative body, the President's unique comfort around New Yorkers has also been evident. In a meeting with congressional Republicans in March to sell the GOP health care plan, King recalled that Trump made a comment to one lawmaker from the South who was not supporting the bill -- remarks that the President quickly appeared to think "went too far."
"I didn't mean anything personal by that," Trump told that congressman, according to King. "Ask Pete King! We grew up together in Queens ... We talk this way all the time to each other. That's the way it is." (King insisted as a side note that he and Trump grew up in different parts of Queens.)
So far, Trump's Washington crash course hasn't been pretty. Not yet a year in the White House, the President has fumed at how impossibly difficult it is to pass legislation through Congress, mused that policy is more complicated than he ever imagined and openly feuded with more than a few Republicans.
Trump has at times even shown disdain for the ways of Washington, a town where hierarchies matter and rules surrounding political etiquette are in abundance.
Not only has he demonstrated a lack of familiarity with the legislative process, the President has repeatedly suggested that governing would be as straightforward -- and familiar to him -- as making business deals. This year, Trump vastly underestimated how long it would take Republicans in Congress to send him a bill to repeal Obamacare.
With those repeal efforts now most certainly doomed, Trump is likely to face more reality checks.
"I do believe that the President may feel some frustrations that things take so slowly to happen in Washington. A lot of the things he'd like to get to -- tax reform, infrastructure -- are taking longer than I think he expected," said Rep. Dan Donovan, another GOP member of the New York congressional delegation who has known Trump since the 1990s. "The President is used to things moving a lot quicker than they do in Washington."
Home crowd
The day after Trump announced his surprise deal with Schumer and Pelosi last week, he gathered with various New York and Jersey officials in the White House to discuss a transportation project called the Gateway Program. The conversation was as free-flowing and upbeat as one could expect from a presidential meeting, multiple sources in the room said, and the affectionate interactions between Trump and Schumer were described by King as "almost like a love-in."
"He was in his home crowd there," said Donovan, who participated in that meeting.
That is in contrast to the tensions that have bubbled up in the first year of the administration between Trump and congressional GOP leaders, including House Speaker Paul Ryan of Wisconsin and Senate Majority Leader Mitch McConnell of Kentucky. One recent infamous phone call between Trump and McConnell even devolved into a shouting match.
But with officials from New York and New Jersey in the audience, the infrastructure meeting last week put Trump squarely in his comfort zone.