Dallas Cowboys Take Knee, Then Stand With Arms Locked for Anthem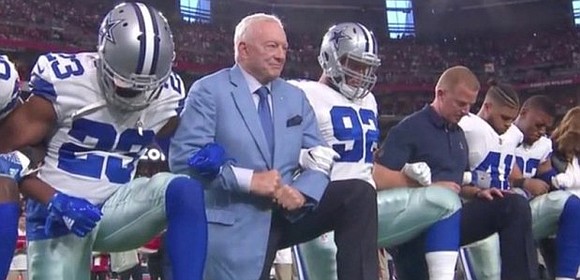 As players, coaches and owners locked arms to honor the flag and members of the armed forces, public address announcer Jim Barnett invited the crowd to "unite as well and do the same with your fellow fans, regardless of jersey color."
Earlier, Cardinals head coach Bruce Arians had said it would be up to players to decide whether to stand or kneel during the anthem. "That is an individual right of an American," he said.
Cowboys coach Jason Garrett was reticent when questioned by reporters before the game.
"We have an approach that we believe in, and no real comment beyond that," he said.
They kept grilling him. Will the players do anything? Has there been a discussion?
"No," Garrett said, drawing an awkward silence as reporters waited for him to elaborate. He didn't.
Another journalist asked: Did Garrett not have an opinion on the protests, or was he simply reluctant to share it?
"I just don't think it's in anyone's best interests for me to comment on that," he said.
Jones joins demonstration
Last year, when then-San Francisco 49ers quarterback Colin Kaepernick saw only a modicum of support for the anthem protests he pioneered, Cowboys owner Jones told a Fort Worth radio station that such demonstrations were "really disappointing."
Jones reiterated those sentiments last week, telling Fox Business that the pregame National Anthem wasn't the time for players to express themselves.
"That's not the place to do anything other than honor the flag and everybody that's given up a little for it," he said.
Then Sunday, Jones joined his team by taking a kneel before the anthem played.
Following the game, Garrett issued high praise for his players and how they handled a "challenging issue."
A controversial Sunday
"Our players get put in a situation where they feel pressure from a lot of different places," the coach said. "They were so thoughtful. They were open with each other. They were communicative. I'm sure they worked through some disagreements and differences of opinion and different positions, and ultimately, those things -- unity and the importance of expressing our support for equality and our country -- those are the things that rose to the forefront."
'Most reputable men I've ever met'
Cowboys players, in their public statements, have largely trod the middle ground on the issue, while at least two Cardinals declined to rule out the possibility of protesting.
Arians has said he concurs with NFL Commissioner Roger Goodell, who called Trump's remarks divisive and said they demonstrate "an unfortunate lack of respect for the NFL" and its players.
"I've been in locker rooms for 25 years, and some of the most reputable men I've ever met wear that uniform," Arians said. "To even overcome the things in their life to get to the NFL is amazing. What they've done in the last month for hurricane relief victims speaks volumes of what we're all about in the NFL."