Dallas Cowboys Take Knee, Then Stand With Arms Locked for Anthem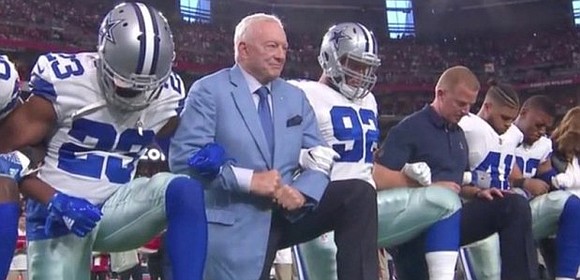 Offensive lineman D.J. Humphries was less diplomatic, declining to call Trump by his name.
"You can't talk to that person," he said. "You're talking to a wall. You may as well talk to my locker because you're going to get the same response ... I hate that this happened. I'm just trying to figure a way that I can help my people and help the people on this side of the spectrum understand right and wrong."
Humphries echoed the words of defensive end Frostee Rucker, who said now is the time to come together and "show compassion, love and everything else we do."
"It's a brotherhood in the locker room. We're out in the community, and we know ourselves. We know everything we're about. We can't let one single person, even though it's the President, dictate how we feel. We stick together. We're in a union. If someone takes a knee, it's almost like we all take a knee."
Trump: Players should not 'disrespect' flag
The latest chapter in the controversy came Friday night when Trump told those attending a political rally in Alabama that NFL owners should fire any "son of a bitch" who stages a protest during the anthem.
The President's focus remained on sports Saturday morning, as he tweeted he was rescinding a White House invitation for the NBA champion Golden State Warriors because two-time league MVP Steph Curry was "hesitating" in accepting the presidential offer. (Curry actually had flat-out declined the invitation.)
Hours later, the President went back in on athletes following in the knee prints of Kaepernick, who has said he refuses to stand during the anthem because he cannot "show pride in a flag for a country that oppresses black people and people of color."
Read Trump's two-part tweet: "If a player wants the privilege of making millions of dollars in the NFL, or other leagues, he or she should not be allowed to disrespect our Great American Flag (or Country) and should stand for the National Anthem. If not, YOU'RE FIRED. Find something else to do!"
Trump went on to make the protests his cause du jour -- or more accurately, de deux jours -- as 15 of his next 23 tweets over the weekend addressed the demonstrations.
His stance gained traction among his base and some NFL fans, who took to social media to tell athletes to stick to sports and skip the politics. Others used hashtags such #standforouranthem and #standfortheflag, tweeting that they were going to follow Trump's advice to tune out.
'That offends everybody'
Within the NFL there was a starkly different response, which was also reflected on social media and in some fan bases. Trump's criticism seemed to galvanize the league's players and coaches.
In some cases, team owners showed up on the sideline to lock arms with their players. Trump supporter Shad Khan, who owns the Jacksonville Jaguars, was one of them. Trump friend Robert Kraft stood in the owners box, hand over heart, before his New England Patriots played, but he said he was "deeply disappointed" in Trump's remarks.