Female footballers to attempt record-breaking match for equality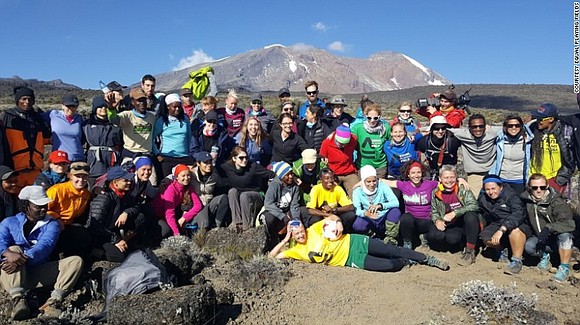 By Aimee Lewis, CNN
(CNN) -- The fight for equality will never be an unbroken upward curve. There are ups and downs in any fight for long-lasting change.
That is why, less than 12 months after playing the highest football match in history, a group of female footballers are to attempt another record-breaking feat -- to play football at the lowest point on earth.`
The 40 women, some of whom are current and former internationals, are presently taking part in a 12-day trek of Jordan which will conclude with the a 90-minute, 11-a-side match at the hot and humid Dead Sea. At 400m (1412 ft) below sea level, the Dead Sea is the lowest point on dry land.
Should they succeed, they will have broken world records for both the highest and lowest FIFA games in history within a year.
'It started as a joke'
The organization behind the quests is Equal Playing Field, a grassroots non-profit initiative formed to challenge gender inequality in sport.
"The Jordan challenge started as a bit of a joke when we were climbing Kilimanjaro last year," Maggie Murphy, Equal Playing Field's co-founder, tells CNN Sport.
"As we started climbing the mountain, we were building relationships with players from 20 different countries and the two players from Jordan, who had always been strong characters, very engaged right from the start, joked and said, 'we should invite you to Jordan next year and play the lowest altitude match.'
"That was when they said we should be playing at the Dead Sea. It's the lowest point in the world and there are highs and lows in football."
Breaking records with a royal seal of approval
Equal Playing Field's Jordan mission is being supported by His Royal Highness Prince Ali Bin Al Hussein of Jordan and the Asia Football Development Project.
It is a three-part challenge which began last year with training camps in Asia, focused on helping prepare teams for the AFC Asian Women's Cup, which is being held in Jordan from April 6-13.
The second part is the currently ongoing 12-day 90km (56 mile) trek of Jordan, which comprises of visiting five cities -- Jerash, Wadi Musa, Wadi Rum, Amman, and the Dead Sea -- to play exhibition games and hold camps with the dual purpose of bringing football to communities across the country and promoting the Asian Women's Cup.
On April 5, the eve of the first match of the Asian Women's Cup, the players will then make their record-breaking attempt on a pitch built especially for the occasion. HRH Prince Ali will also be in attendance.
"This particular challenge is aimed at opening doors for women and girls, especially in Jordan and surrounding countries," says Murphy.
"We want to open doors for them to walk through. We know there are a lot of women and girls in Jordan who haven't even thought of going out and having a kick around.
"We want to help normalize sport for women and girls. We're hoping that by taking the sport to different parts of the country those girls can just have fun and see if they like it and, who knows, maybe they'll go on to be stars of Jordan's national football team."