Female footballers to attempt record-breaking match for equality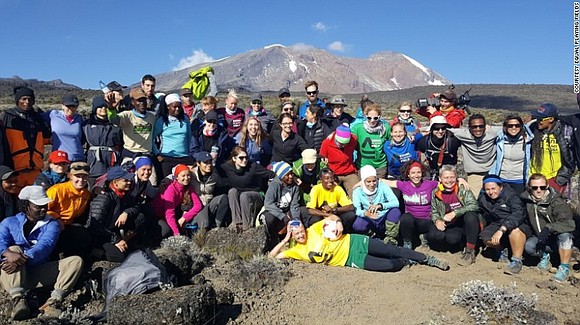 Leaving a legacy in Jordan
Much has changed, says Murphy, since she and other female footballers from around the world played at 18,799 feet, an altitude not attempted before, last June.
On their return home, some received a hero's welcome and that was when the plan for a second record-breaking match began.
"A couple of the players found they received really big receptions from the media," explains Murphy.
"For Haneen Khateeb and Jasmine Henderson, the two girls from Jordan, there were TV crews waiting to welcome them home.
"They, as individuals, were being celebrated as Jordanian role models for taking part. That's when Prince Ali gave a shout out of support through social media and this Jordan plan started fermenting."
Last year, the women -- many current and former internationals, such as former US international Lori Lindsey -- had to fund themselves, setting up crowdfunding pages and relying on the generosity of family and friends.
This time around Equal Playing Field is being supported not only by HRH Prince Ali and the Asian Football Development Project, but also the US Agency for International Development (USAID), the German Development Agency and private investment from Jordanian companies.
And while they had to scale Africa's highest mountain with goal posts and nets in tow, creating a temporary pitch on volcanic ash, they will leave behind a lasting legacy in Jordan.
"Working with Prince Ali, we decided we wanted to build something that would last longer for the community so a pitch has been constructed next to the Dead Sea," says Murphy, adding that a third of the group which will be playing in Jordan took part in the Kilimanjaro adventure.
"For Kilimanjaro we had to take everything up and leave no trace behind but, this time, we will be leaving a trace behind, a pitch for the community that, so far, has only been played on by female footballers.
"With Mount Kilimanjaro there was a sense of the unknown and with that came quite a bit of fear," Murphy adds.
"We'd heard a lot of scare stories, we were very nervous, we were not mountain climbers and with that came a real dedication to the challenge.
"This time I think people might underestimate the challenge of walking for six to seven days and playing so many matches and taking part in so many training clinics. That underestimation might be the thing that's hardest to deal with.
"This will be a lot about hydration. Some of the players will definitely have an advantage over others. The temperature is set to be 30C (86F) which is pretty warm for a normal game. We're also nervous about the humidity and that could be the thing that see fatigue set in quickly."