Why the electoral battlefield is expanding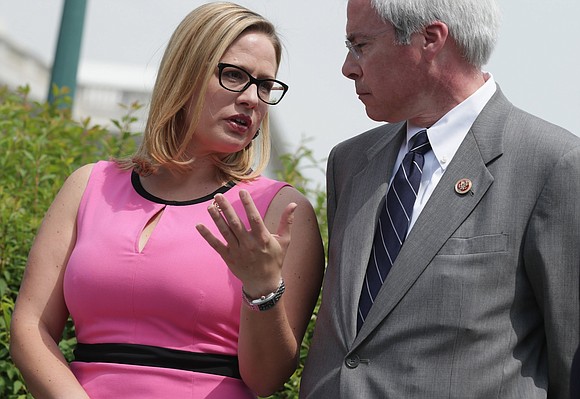 But the Democratic margin declined by much greater amounts across the Rust Belt. Obama, for instance, beat McCain in Iowa by 9.5 percentage points while Clinton lost it to Trump by a virtually mirror-image 9.4 points. That's a decline in margin for the Democrats of fully 19 percentage points, nearly four-times the national average. Using the same calculation, the Democratic margin from 2008 to 2016 declined by 17 points in Wisconsin, 14 in Michigan, 13 in Ohio and 11 in Pennsylvania. After Obama won all each of those states both times, Clinton lost all of them -- with Trump squeezing out Michigan, Wisconsin and Pennsylvania by less than one percentage point each. And although Clinton narrowly preserved Minnesota, her margin there declined by nearly nine percentage points compared to Obama's.
Where Clinton gained ground over Obama
Nevada, where Clinton's margin was about 10 points less than Obama's, was the only contested Sun Belt state where Democrats lost so much ground since 2008. But in Colorado, North Carolina and Florida, her margin declined by about four percentage points, less than the national average (with Democrats holding the first and surrendering the latter two.) In Virginia, which Clinton comfortably carried, her margin fell by only one point from 2008. Clinton lost Georgia by almost exactly the same roughly five-percentage-point margin as Obama did in 2008. And she actually narrowed Obama's margin of defeat from 2008 by five points in Arizona and three points in Texas -- over a period when the national popular vote margin, recall, had moved five points toward the GOP.
These changes produced a significant number of relatively close states in both the Rust and Sun Belts. Trump won (in ascending order of margin) Michigan, Pennsylvania, Wisconsin, Florida, Arizona, North Carolina and Georgia, all by 5.1 percentage points or less; Clinton managed relatively competitive victories of 5.3 percentage points or less in Minnesota, Nevada, Colorado and Virginia.
Democrats hope for Arizona, Texas surprises
These shifts also produced a telling reordering of the states. Clinton lost Texas by a smaller margin than Iowa; only eight years earlier, the Democratic margin had been over 20 points better in Iowa than in Texas. She lost Arizona, Georgia and North Carolina by much less than she lost Ohio, after Obama had run much better in the Buckeye state than any of the other three. And she won Colorado and Virginia by more than she carried Minnesota after the reverse was true for Obama in 2008.
The 2018 Senate elections will provide the next key gauge of these changes. In the southwest, Democrats are on the offense. In Nevada, Republican Sen. Dean Heller, who is facing Democratic Rep. Jacky Rosen, is considered the single most vulnerable GOP Senate incumbent. In Arizona, which is generally considered the second-best Democratic pickup opportunity, last week's ABC/15 OH Predictive Insights poll showed Democrat Kyrsten Sinema leading all three top competitors in the GOP Senate primary, including Rep. Martha McSally, the highly-touted favorite of the party establishment. All of the Republicans were weighed down by unhappiness with Trump: the poll found his approval among college-educated whites in the state had dipped below 40%, and they now preferred Simena over McSally by double-digits, a big improvement over the usual Democratic performance there.