She's trying to be the first black woman to visit every country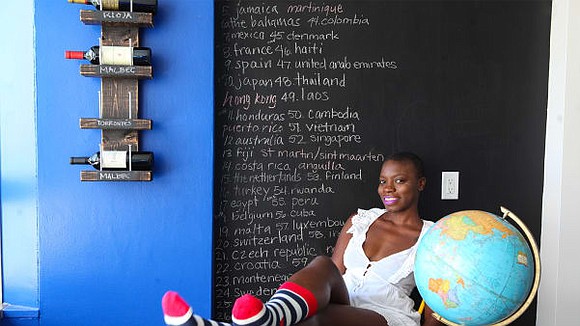 Lilit Marcus, CNN
(CNN) -- Some people set records by jumping the highest or running the fastest.
But for Jessica Nabongo, a UN employee turned travel blogger, becoming the first black woman to visit every country on Earth isn't just about getting her name in a record book -- it's about paving the way for women and people of color to do the same.
Nabongo was born in Detroit to Ugandan parents and holds two passports.
Although she felt like she'd achieved "the American dream" by landing a six-figure job at a pharmaceutical company after college and buying her own place in the Motor City, the work didn't satisfy her.
She began renting out her condo to make money, then hit the road -- first, teaching English in Japan, then grad school at the London School of Economics, followed by a job at the United Nations that took her to Benin and then Italy. But that wasn't enough to sate the travel bug.
But simply being able to afford a ticket doesn't mean that travel is easy or seamless.
Nabongo's experiences traveling the world undercut many of the exhortations travel brands have to "live like a local," being able to seamlessly blend in anywhere simply by changing clothes or ordering coffee a certain way.
Often, as the only person of color in a crowd, she stood out whether she wanted to or not. Nabongo also has dark skin and shaves her head.
To date, there are about 150 known people who have been to every country, the majority of whom are white men traveling on European passports -- the ones who have the option to "blend in" in more places.
As of April 2018, there were 193 recognized countries in the United Nations, plus two with "non-observer status."
Since she began her project in earnest in 2016, Nabongo has been to 109 of them. Her goal is to reach 172 by the end of 2018, and the remaining countries by summer 2019.
North Korea and Iran, which often prove challenging for US travelers, are two where she plans to use her Ugandan passport. So far, her passports have stamps from places as far-flung as Nigeria, Cuba, Turkey and Laos.
Nabongo supports her travel habit a few ways. She founded a company called Jet Black, which organizes custom itineraries for small group trips in Africa, plus sells travel gear like branded T-shirts and passport covers.
As an influencer, she works with hotel and hospitality brands, some of whom offer up free stays in exchange for social media posts. She also accepts donations on a GoFundMe page.
"Navigating the world as a woman can be very difficult," Nabongo told CNN Travel. "I've had a pretty wide range of experiences. I've been accused of being a prostitute. I've had men chase me before. I've been assaulted on the street."
In one particularly horrible incident, a driver/fixer Nabongo had been working with and had grown to trust invited her to an "Easter orgy" just before he was due to pick her up to go to the airport. "That is something a man will never have to deal with."