LeBron James Opens I Promise School in Hometown of Akron for At-Risk Kids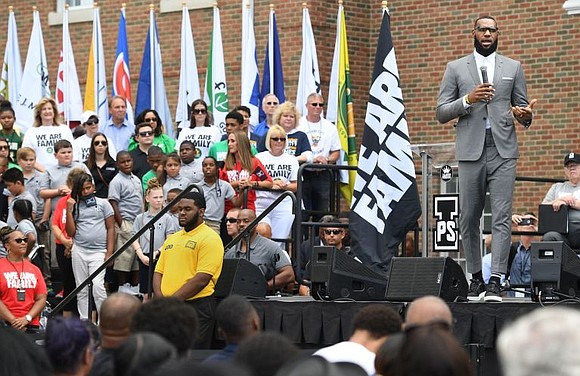 Source: Good Black News
by Tania Ganguli via latimes.com
As he drove to the school he was helping open in his hometown, LeBron James' emotions brought him back to when he was the same age as the kids who were starting school there Monday.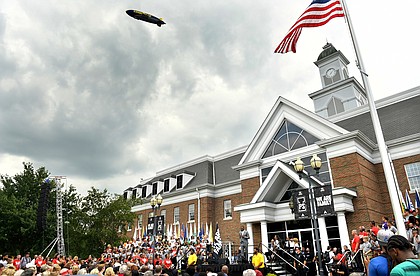 He remembered school meaning nothing to him. He remembered it being too far away for him to get there, especially when his mother didn't have a car. He missed 83 days of school in fourth grade. "It was a surprise to me when I woke up and I was actually going to school," James said.
As he got older he learned about the value of an education, and how important that was to break poverty cycles. That's why Monday mattered so much to James, the NBA's biggest star who recently left Cleveland for the Lakers.
At 8 a.m., 240 at-risk third- and fourth-graders started at the I Promise School in Akron, Ohio. It is a public, non-charter school, just like the ones James attended as a child, but it seeks to offer all the things kids growing up like James did need to succeed. The LeBron James Family Foundation is the top donor and worked with Akron Public Schools to meet all its standards and regulations. And here, the staff attends to not just the children's education, but also the outside factors that might interfere with that education.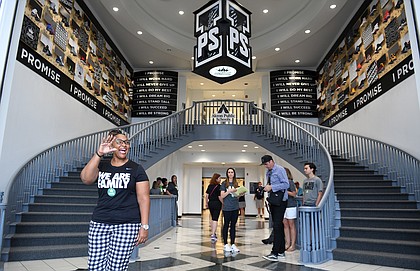 The kids received high-fives from the staff. They begged their teachers to know if "Mr. LeBron" was going to visit their classrooms. Some parents who'd lost jobs asked if the school could help them find new ones. A homeless family asked if they could get help, too. The answers were yes, yes and yes.
"We are going to be that groundbreaking school that will be a nationally recognized model for urban and public school excellence," said Brandi Davis, the principal. "We are letting people know that it is about true wraparound support. True family integration, true compassion."
It began as an idea inside a monthly brainstorming session between James and Michele Campbell, the executive director of James' foundation.
Sometimes her job is to manage the expectations of a man who believes, on and off the court, that he can accomplish anything. In this case, she let slip an idea he latched on to right away. Maybe their reach would improve if they created a school, she mused. "Well, why aren't you doing that?" James asked.
She told him the foundation wasn't ready for that kind of project. He told her to get started anyway. "There's nothing that she can't do," James said. "If I tell her to go build a rocket and take it to outer space, Michele can make it happen."
Like the early days of space travel, this was uncharted territory. The school district worked with the foundation. They brought together 120 stakeholders — parents, corporate sponsors, students, teachers, administrators and volunteers — to find out what students in their district really needed. Akron public schools are some of the lowest-performing in Ohio.