Abdul El-Sayed hopes to keep progressive wave rolling in Michigan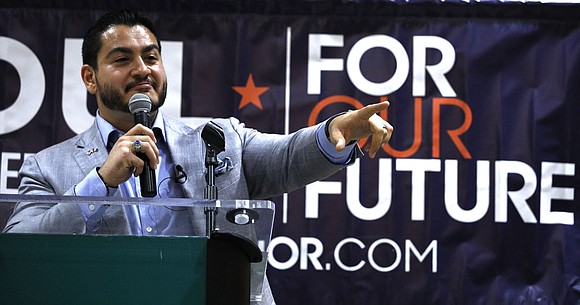 For now, though, El-Sayed and other Whitmer critics are keeping up the charge that her opposition to "Medicare for all" has been influenced by allies at Blue Cross Blue Shield. Executives who run the insurer's PAC organized a fundraiser for Whitmer earlier year, netting her campaign $144,000. In a recent interview with The Nation, El-Sayed alleged that it "bought her silence on single-payer."
During a canvassing event last week, Whitmer called those attacks "phony," adding that it was "extremely sexist to say that a woman is beholden to her father's former employer." Her father, Richard Whitmer, was the insurer's chief executive from 1988 to 2006. El-Sayed has steered clear of making a direct connection. Others have been less careful.
Whitmer insists she backs "universal coverage" but also called it "deceptive to pretend a governor can count on two waivers from the Trump administration, and a constitutional amendment and a hundred billion dollars."
Asked about that logic, El-Sayed's campaign said, "Senator Whitmer here clearly shows that Blue Cross Blue Shield has written her talking points on health care."
Though they have mostly focused on each other as the primary nears, both El-Sayed and Whitmer have also been the target of (expensive) broadsides from Thanedar, whose bid appears to be losing steam amid controversies surrounding his business practices and a report that he considered running as a Republican before turning around and pitching himself to Democrats as "a fiscally savvy Bernie."
Sanders' candidate
In an interview last week, El-Sayed compared his campaign to the one Sanders, who sung his praises at a pair of rallies this weekend in Michigan, ran a couple years ago.
"(Sanders) inspired people to believe in his message because they knew he wasn't bought by corporations and he wasn't proposing halfway measures," El-Sayed said. "We're doing exactly the same thing."
The son of Egyptian immigrants, El-Sayed has also fended off suggestions that, in a state won by President Donald Trump two years ago, he would be at a disadvantage in a general election.
His message to the doubters: "Barack Hussein Obama won twice, and Bernie just won his primary, so I'm your best bet if you want to win a primary or a general."
Whitmer's argument, highlighted by a recurring promise to "Fix the damn roads" and reminder she alone among the candidates can stake a claim to expanding health care in the state, is more utilitarian.
"Michigan's not an overwhelmingly extreme left state or extreme right state," she said in an interview last week. "We're a state full of people that just want our government to work."