5 Books By Black Authors You Should Add To Your Reading List
Visit: www.ladyofdestiny.com
AuthorHouse Publishing Company
Social Media: Facebook-Author Ngozi Mobi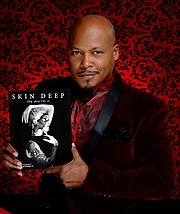 Skin Deep: The Skin I'm In (Ferrell Phelps, Jr.)
"Who are we to judge what HE has created?" Known for taking outstanding photos of Destiny's Child at the start of their famed careers, Dionne Warwick, Shaquille O'Neal and many other celebrities, A-list photographer, Ferrell Phelps, Jr., is taking the world by storm with his new photographic project, Skin Deep: The Skin I'm In. Some pictures are worth a-thousand words and Phelps is putting a new meaning to that phrase. The exhibit is a celebration of melanin to dispel prejudices as it offers education and uplifting narrative to various skin conditions such as vitiligo, albinism, nevus, N2 and ephelides, to name a few. This book has caught the attention of Discovery Channel and many vitiligo organizations from Houston, Africa, Boston to London, UK.
Visit: www.skiniminexhibit.com
Boss Lady Press Publishing (a new black-owned publisher)
Social Media: Instagram- @ferrellimages84 Facebook- Ferrells Photography
Love, Happiness, and All That Other Sh*t: A Girlfriend's Guide to living a life fulfilled (Brittany A. Daniel M. A. LPC)
With a background radiant in behavioral health, author and entrepreneur, Brittany A. Daniel M. A. LPC, is dedicated to providing awareness to all people in the community about mental health and solidifying strategies to get to victory. Brittany wants readers to know, "You are in control of your destiny... get out of your own way." Love, Happiness, and All That Other Sh*t, is an honest and liberating vessel of literature formulated for women to break down those, "mental barriers" that can keep you from living a life fulfilled.
Visit: www.voicecounseling.org
CreateSpace Independent Publishing Platform
Social Media: Instagram- @voice_counseling Facebook- 4 Voice Counseling
If you've read any one of these books, feel free to provide feedback in the comment section of what you thought. Happy reading!