Body found in search for missing Iowa student Mollie Tibbetts, authorities say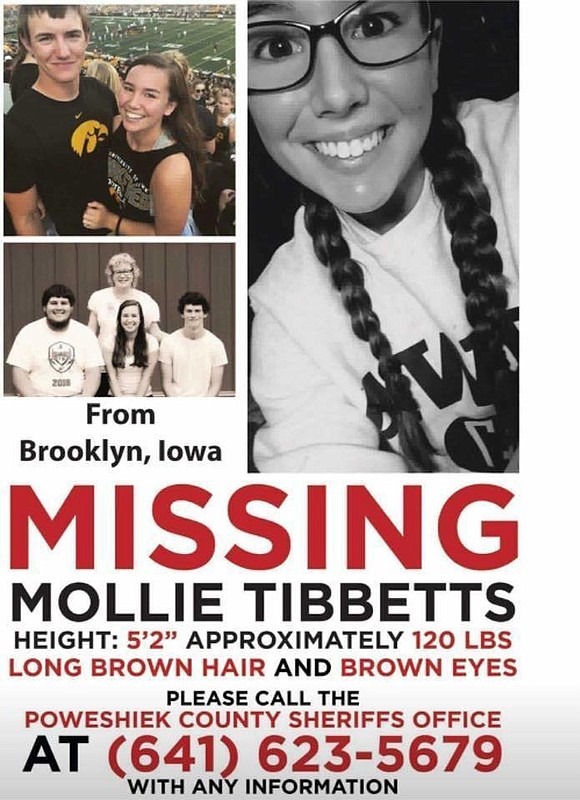 By Eric Levenson and Samira Said, CNN
(CNN) -- Authorities investigating the disappearance of 20-year-old Mollie Tibbetts announced Tuesday a body has been found in rural Poweshiek County.
Officials are working to identify the body, the Poweshiek County Sheriff's Office said in a statement. No details will be released by police before a news conference at 4 p.m. (5 p.m. ET), according to Mitch Mortvedt with the Iowa Division of Criminal Investigation, but he told CNN to "expect quite a bit of news."
Tibbetts' father, Rob Tibbetts, had no comment.
Mollie Tibbetts, a University of Iowa student, was last seen jogging on July 18 in the small community of Brooklyn, Iowa, about an hour east of Des Moines, according to the Poweshiek County Sheriff's Office.
Before she went missing, Tibbetts' brother dropped her off at her boyfriend's house so she could dog-sit, HLN reported. Her family reported her missing after she did not show up for work the next day.
Investigators launched an extensive search for Tibbetts across the area, including in ponds, fields and from the air. In addition, investigators looked through her digital footprint, including her Fitbit, to try to trace her final steps.
Rick Rahn, special agent in charge at the Iowa Division of Criminal Investigation, said last week that authorities have received more than 1,500 tips and conducted more than 500 interviews in the case.
"We haven't lost hope. We continue to strive to bring her back home safely. We are not frustrated," Rahn said at the time. "We just are diligent, and we'll continue to do so."
Tibbetts was studying psychology and wanted to get a doctorate and write books, her father said.