Catholics in the pews, unleash your anger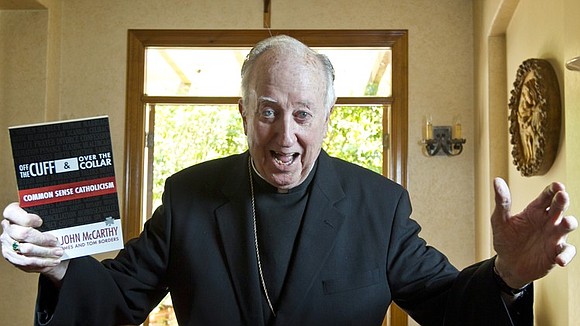 By Paul Begala
(CNN) -- Bishop John McCarthy of Austin will be laid to rest Friday. A larger-than-life, gregarious Irishman, McCarthy led the Catholic Diocese of Austin from 1986 until 2001, and was a priest for more than 60 years.
He was powerfully committed to civil rights (not always popular in the Texas in which he grew up), questioned the church's tradition of priestly celibacy, and advocated for a more inclusive and powerful role for women. The diocese thrived under his leadership. Enrollment in Catholic schools, membership in the church, baptisms, and conversions more than doubled, the diocese said.
I first met Bishop McCarthy when he was an auxiliary bishop in Houston and I was a teenager active in the Catholic Youth Organization (CYO). In the 90's, when he was Bishop of Austin and I was living there, we had regular lunches, where we talked about politics (which he loved), movies, books, and -- as we say in Texas -- life its ownself.
I remember one conversation in the mid 90's especially. A lawsuit had been filed in Dallas, alleging that a priest had molested children and the church had covered it up. It was one of the first such lawsuits in the country. I recall being shocked, and disbelieving that such a thing could happen. Not in the church that had given me a moral compass and spiritual sustenance; the institution that sponsored dances and retreats and even found a spot on the Holy Family CYO basketball team for a kid who was too short and too slow for the high school team.
I was then -- and remain today -- an active member of the Catholic Church, and had never even heard a murmur about abuse. But Bishop McCarthy told me that my blissful, blessed experience was not everyone's. He had fought in 1987 to defrock an abusive priest, and knew well the resistance many in the hierarchy had to addressing the abuse scandal.
He told me about numerous bishops back east who had asked him to accept priests who had been "cured" of child molestation. He refused. They implored him, he said, even saying he was being un-Christian by not forgiving the priests' sins and accepting their redemption.
The bishop scoffed at the notion. His diocese was far-flung, covering 25 counties; he knew he could not sit in Austin and supervise a "former" child molester 130 miles away. So he resisted. He refused to be part of the priest abuse pipeline. God only knows how many Texas children he saved from abuse.
Pope Francis' letter reacting to the shocking, heartbreaking report from Pennsylvania, in which more than 1,000 children were allegedly abused by over 300 priests, is necessary but not sufficient.
The Holy Father rightly acknowledges the staggering toll and the church's culpability. "Looking back to the past," he wrote, "no effort to beg pardon and to seek to repair the harm done will ever be sufficient. Looking ahead to the future, no effort must be spared to create a culture able to prevent such situations from happening, but also to prevent the possibility of their being covered up and perpetuated."