Primary elections in Arizona and Florida: What to watch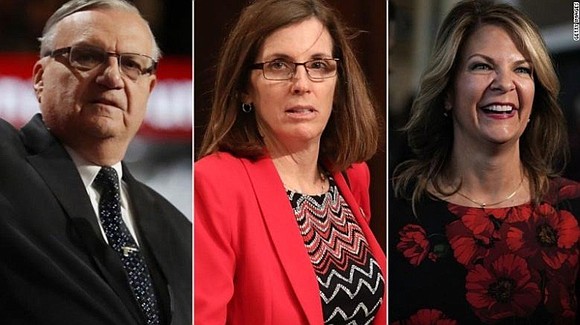 By Adam Levy and Ethan Cohen, CNN
(CNN) -- Florida and Arizona hold primaries on Tuesday, teeing up the House and Senate races that will be critical to the balance of power in Washington come November.
Democrats must hold on to Sen. Bill Nelson's seat in Florida and win in Arizona's Senate race in order to have a shot a taking the majority in the Senate.
In Arizona, a Republican Senate candidate's reaction to Sen. John McCain's ailing health caused a last-minute controversy. In Florida, the Senate contest is already set, but both parties will select their nominees for governor in what is expected to be a competitive race in November.
Oklahoma is also holding a runoff election to determine who will be the Republican gubernatorial nominee. Democrats are eyeing this race as a potential flip this year.
What we'll learn tonight
WILL MCCAIN'S PASSING CHANGE THE RACE? Former state Sen. Kelli Ward walked back comments late Monday about the timing of the McCain family announcing he was stopping medical treatment and a tweet saying political correctness is a cancer. She apologized but also said the media misinterpreted some of her comments. McCain, who represented Arizona in both houses of Congress for more than 30 years, wasn't exactly embraced by any of the candidates in the race -- Ward, GOP Rep. Martha McSally or former Maricopa County Sheriff Joe Arpaio.
They all ran towards President Donald Trump, in a sign of his hold over Republican voters. Ward was already lagging behind McSally, the establishment's favorite to defeat the likely Democratic nominee in the fall.
HAS TRUMP PERMANENTLY CHANGED THE GOP PRIMARY GAME? The President's endorsement of Rep. Ron DeSantis immediately affected the GOP contest to replace Gov. Rick Scott. DeSantis is riding the wave of the Trump endorsement with a smaller ground game than his top rival, state Agriculture Commissioner Adam Putnam. Most statewide races come down to strong outreach and heavy media buys in Florida's diverse areas and media markets, but Trump's nod of approval may change that for Republicans. His strong support from the northern panhandle through the Gulf Coast in the South could prove that a tweet is mightier than the door knock.
CAN PROGRESSIVE DEMS SURPRISE? Progressives Sen. Bernie Sanders (I-VT) and Alexandria Ocasio-Cortez, who defeated powerful New York Rep. Joe Crowley in a primary in June, have both supported underdogs in key Florida Democratic primaries. If either Tallahassee mayor Andrew Gillum or activist Michael Hepburn can beat their better-known opponents, it would be a boost to the progressive movement, but it also might hurt Democrat's chances of flipping a vulnerable governor's mansion and House seat. Tonight's Democratic winner and the margin of victory will say a lot about the left in Florida. A united Democratic Party in Florida is vital to break the almost two decades-long GOP rule in Tallahassee, and with at least seven Republican-held congressional districts at play to flip, control of Congress may hinge on it as well.