PBA Hall of Famer Norm Duke Helps Host Chris Paul Win His Fourth State Farm® CP3 PBA Celebrity Invitational Doubles Title
Houston Rockets star wins second consecutive title in multi-event extravaganza benefitting Paul's CP3 Family Foundation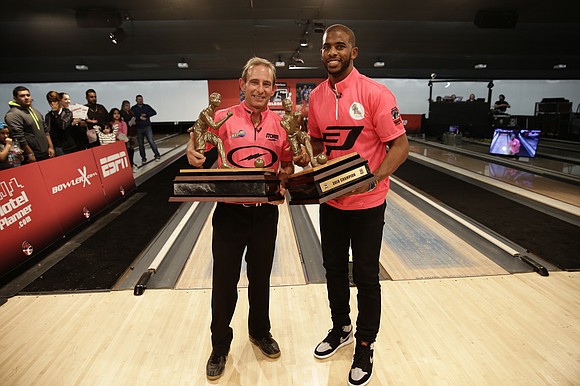 In the third event of the telecast all of the participating celebrities, including actor/comedian Oscar Nunez and Rockets guard Bobby Brown, took part in the Go Bowling! Celebrity Super Clash sudden-death shoot out where the low score in each frame was eliminated. It came down to a dual against Owens and Ariza in the eighth frame with Owens striking to win against Ariza's eight count.
The Chris Paul Family Foundation strives to positively impact individuals and families by providing resources that enrich and strengthen healthy development of strong communities.
PBA's February schedule of live ESPN telecasts continues with three consecutive live Go Bowling! PBA Tour finals on Sundays at 1 p.m. ET, beginning with the PBA Tournament of Champions on Feb. 11; the Go Bowling! PBA 60th Anniversary Classic, Feb. 18, and the Barbasol PBA Players Championship, Feb. 25.
State Farm® CP3 PBA Celebrity Invitational presented by Go Bowling! Bowlero The Woodlands, The Woodlands, Texas
Results from Sunday's ESPN telecast
Alternate Frame Doubles Format
Semi-final (five frames)
Match One – Norm Duke/Chris Paul def. EJ Tackett/James Harden, 109-90.
Match Two – Bill O'Neill/Mookie Betts def. Pete Weber/Terrell Owens – 130-73.
Championship (10 frames)
Duke/Paul def. O'Neill/Betts, 259-226.
CP3 PBA Celebrity Invitational Winners:
2018 – Norm Duke/Chris Paul
2017 – Chris Barnes/Chris Paul
2016 – Pete Weber/Terrell Owens
2015 – Ronnie Russell/French Montana
2013 – Chris Barnes/Chris Hardwick
2012 – Pete Weber/Jerry Ferrara/Blake Griffin
2011 – Jason Belmonte/Chris Paul
2010 – Jason Belmonte/Chris Paul
2009 – Jason Couch/LeBron James