Barack Obama and Michelle Obama Portraits Unveiled at National Portrait Gallery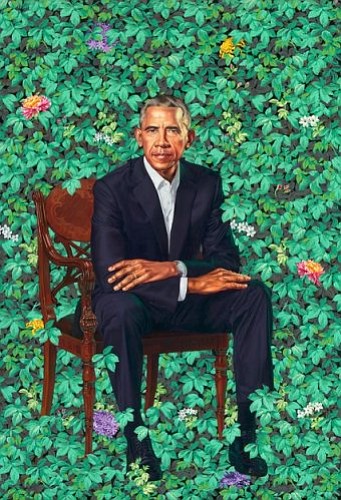 His engaged and assertive demeanor contradicts — and cosmetically corrects — the impression he often made in office of being philosophically detached from what was going on around him. At some level, all portraits are propaganda, political or personal. And what makes this one distinctive is the personal part. Mr. Wiley has set Mr. Obama against — really embedded him in — a bower of what looks like ground cover. From the greenery sprout flowers that have symbolic meaning for the sitter. African blue lilies represent Kenya, his father's birthplace; jasmine stands for Hawaii, where Mr. Obama himself was born; chrysanthemums, the official flower of Chicago, reference the city where his political career began, and where he met his wife.
Mrs. Obama's choice of Ms. Sherald as an artist was an enterprising one. Ms. Sherald, who was born in Columbus, Ga., in 1973 and lives in Baltimore, is just beginning to move into the national spotlight after putting her career on hold for some years to deal with a family health crisis, and one of her own. (She had a heart transplant at 39.) Production-wise, she and Mr. Wiley operate quite differently. He runs the equivalent of a multinational art factory, with assistants churning out work. Ms. Sherald, who until a few years ago made her living waiting tables, oversees a studio staff of one, herself.
At the same time, they have much in common. Both focused early on African-American portraiture precisely because it is so little represented in Western art history. And both tend to blend fact and fiction. Mr. Wiley, with photo-realistic precision, casts actual people in fantastically heroic roles. (He modifies his heroizing in the case of Mr. Obama, but it's still there.) Ms. Sherald also starts with realism, but softens and abstracts it. She gives all her figures gray-toned skin — a color with ambiguous racial associations — and reduces bodies to geometric forms silhouetted against single-color fields.
To read full article, go to: https://www.nytimes.com/2018/02/12/arts/design/obama-portrait.html
Portraits of Barack Obama and Michelle Obama
At the National Portrait Gallery, Smithsonian Institution, Washington; 202-633-1000; npg.si.edu.