TV One Partners with Ford Motor Company, AT&T, American Family Insurance, Black Radiance, Disney Pictures, McDonald's, Toyota and Walmart to Sponsor the 49th NAACP Image Awards Telecast and Red Carpet
Terrence J Returns to Host and Serve as One of The Producers for the Red Carpet Live! Pre-Show, Joined by Special Correspondent Tanika Ray at 8 p.m. ET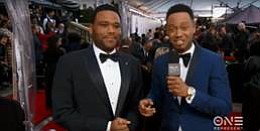 The NAACP Image Awards honors individuals or groups who promote social justice through creative endeavors and celebrates the accomplishments of people of color in the fields of television, music, literature and film. For the first time in its award show history, the public was invited to vote for their favorite nominees in 36 categories, which is certain to make for an even more meaningful win for this year's honorees.
"For the first time in our history, voting for the 49th NAACP Image Awards was open to the public," said Derrick Johnson, NAACP President and CEO. "Through our Hollywood Bureau, the NAACP fights for diversity and inclusivity in front of and behind the lens. Engaging the public in the selection of the Image Awards winners is a natural extension of that mission. I am thrilled but not surprised that more than a million individual votes were cast for nominees in 36 categories. We look forward to celebrating the winners they selected on January 15th."
TV One will drive conversation around MLK Jr. Day and the 49th NAACP Image Awards by encouraging its social audience to share how they 'REPRESENT' Martin Luther King Jr.'s dream today. Nominees, celebrities, influencers, notable dignitaries and the social community will use the hash tag #RepresentTheDream to create an emotional and powerful campaign that will remind viewers of the power of "The Dream." Viewers can find each thought-provoking #RepresentTheDream testimonial on www.TVOne.tv/ImageAwards or on Instagram during the Red Carpet Live! pre-show.
For all information and latest news, please visit the official 49th NAACP Image Awards website at http://www.naacpimageawards.net. Viewers can also join the conversation on TV One's upcoming live telecast of the 49th NAACP Image Awards by visiting www.tvone.tv/imageawards and connecting via social media on Twitter, Instagram and Facebook (@tvonetv) using the hash tags #ImageAwards and #RepresentTheDream.