Playa! Playa! Musician Icon Quincy Jones, 84, Says He Has 22 Girlfriends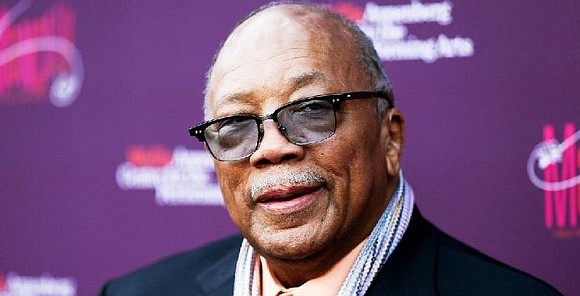 Source: EUR Web
*84-year-old Quincy Jones revealed in a recent interview with GQ that he has 20+ girlfriends and counting. He explains, "I got 22 girlfriends. I was married three times, man. Was told not to marry actresses or singers. I ended up with two actresses, Peggy Lipton and Nastassja Kinski (9), and a superstar model. I didn't listen to all the advice."
And he says his ladies reside all over the world.
When asked about the age range of his women, Jones said, "Well, my daughters gave me new numbers because they kept saying, 'Dad, you can't go out with girls younger than us.' I said, 'Y'all are not young anymore.…' So the new numbers are 28 to 42. They gave them to me."
He also says he'd never date a woman his age.
"Hell no! You see me with an 84-year-old woman? Are you crazy? There's nothing…there's no upside. You gotta be kidding. I got me some technology out there"—he gestures to the mansion's perimeter—"that keep fat and old away from here. Buzzes if they're too old. But you'd be surprised.… These women, the young ones, are aggressive now. Oh my God, they're fearless, man. All over the world."
When asked why he believes he's been a dog all his life, Jones explained, "I don't know. Probably because I didn't have a mother. And the big bands, that's like the school of the dogs. Traveling bands? Every fucking night it was like the girls coming through Neiman Marcus: 'Oh, I like trumpet players,' 'I like sax players,' 'I like guitar players'… Rita Hayworth, all of them. It was unbelievable, man. Frank was always trying to hook me up with Marilyn Monroe, but Marilyn Monroe had a chest that looked like pears, man."
On whether he turned down Marilyn Monroe, he said:
"Let's not talk about it. Come on, man. We killed it. You know, I came up with the two wildest motherfuckers on the planet. Ray Charles and Frank Sinatra. Come on. They were good-looking guys, they had all the girls they wanted, and they showed you how to deal with it. So did Rubirosa—the king of the playboys. Amazing man. What a guy. Eleven-inch dong. And in Paris to this day, you go to Chez L'Ami Louis, the waiter will come over to you with a pepper shaker and say, 'Here's your Rubirosa.' He always used to say, 'Quincy, it's by the head, not the bed. Women give up pussy to get love, men give up love to get pussy.' That's the way it works. You know, all these women were available all over the world. I did a tour with Nat Cole in '61 with my band—we couldn't stop the girls. It's incredible. Women are a trip, man."