For fans of John Coltrane his lost album is exciting. For the church that worships him, it's a religious event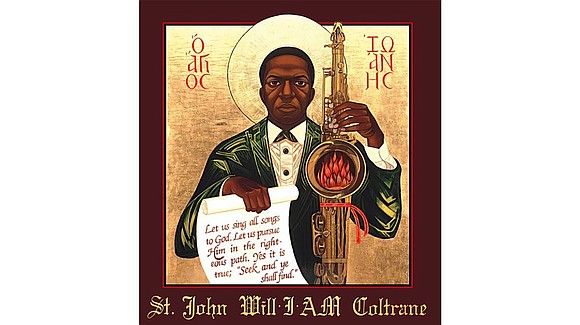 By Josh Axelrod, CNN
(CNN) -- Eight months before John Coltrane died, he performed a concert at Temple University.
During the concert, the legendary jazz musician put down his horn and banged his fists against his chest. He screeched and he squawked. He yodeled and he screamed. He prayed and he sang.
John Coltrane was on a spiritual journey.
In the same year as his enigmatic performance, a Japanese journalist asked Coltrane what he would like to be in 10 years. His response: "a saint."
At a church in San Francisco, he is just that.
The Church of St. John Coltrane
In the 1980s, the saxophonist was venerated and canonized by a congregation affiliated with the African Orthodox Church. Today, 25 to 50 members still gather each week in San Francisco to pray and meditate to a liturgy based on Coltrane's music, while a global community remains connected remotely.
That community is about to receive an exciting gift. A lost album of never-before-heard music is being released Friday by Impulse! Records. Members of the church consider Coltrane's music holy.
"As a child when I would dream of God, he looked like John Coltrane," Makeda Nueckel said. Her parents, Franzo and Marina King, founded the St. John Will-I-Am Coltrane Church in 1984. "Growing up it's always been sacred music to me."
Since she was a child, Nueckel has joined her parents for worship on Sunday mornings, greeted by a quartet of jazz musicians and a courtly, stone-faced icon of Coltrane hanging on the wall. The steady, sleek tone of Coltrane's "A Love Supreme" often played as they passed before the image, the musician holding a saxophone in one hand and a religious scroll in the other.
The church uses Coltrane's limited repertoire as the backdrop to mass, confession and the Lord's Prayer.
'The Lost Album'
Yet for devotees of the church, the new recording, entitled "Both Directions at Once: The Lost Album," is a welcome addition to Coltrane's canon.
"We're glad that the music is coming out, and there's always that thirst, that hunger for the true devotees of the music," Franzo King said. "And there's still that need for it. It's really beautiful how relevant John's music remained after all these years."
The church plans to incorporate the album into its service. King said, "We have a meditation Sunday where we choose the chosen works of St. John, and we meditate on it. We definitely will be introducing this to our dear listeners."
The album contains seven tracks from a 1963 recording studio session. It falls in the last decade of his life -- five years after he overcame heroin due to a religious experience and two years before he released his magnum opus, "A Love Supreme." He died at 40 of liver cancer in 1967.
"It's an important album," Ted Gioia, author of "The History of Jazz," told CNN about the new release. "This is one of the most important recordings of the year."