Alpha Kappa Alpha Sorority, Incorporated Inducts Five Honorary Members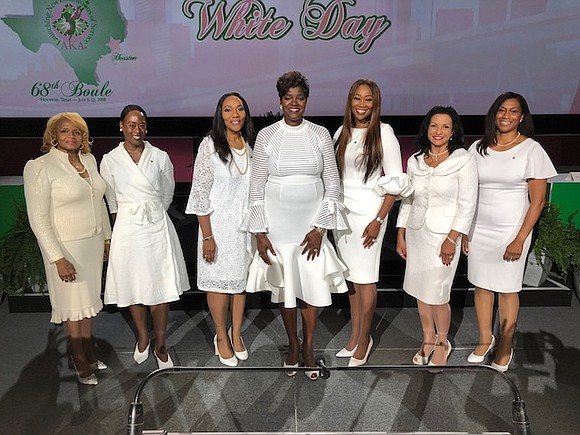 Ms. Margo Lee Shetterly is the author of the book "Hidden Figures: The American Dream and the Untold Story of the Black Women Mathematicians Who Helped Win the Space Race." Shetterly is also the founder of The Human Computer Project, an endeavor that is recovering the names and accomplishments of all of the women who worked as computers, mathematicians, scientists and engineers at the National Advisory Committee for Aeronautics (NACA) and its successor NASA from the 1930s through the 1980s. In 2014, Ms. Shetterly received the Alfred P. Sloan Foundation Fellow and was a Virginia Foundation for the Humanities grantee. She is a native of Hampton, Va., where she knew many of the women behind the history in Hidden Figures.
Previous honorary membership inductees include Jada Pinkett-Smith, Maya Angelou, Ntozake Shange, Alice Walker, Iyanla Vanzant, Ella Fitzgerald, Alicia Keys, Gladys Knight, Coretta Scott King, Rosa Parks, C. Delores Tucker, Suzanne de Passe, Mae Jemison, Eleanor Roosevelt, Zina Garrison and C. Vivian Stringer.
About Alpha Kappa Alpha Sorority, Incorporated Alpha Kappa Alpha Sorority, Incorporated (AKA) is an international service organization that was founded at Howard University in Washington, D.C. in 1908. It is the oldest Greek letter organization established by African-American college-educated women. Alpha Kappa Alpha is comprised of nearly 300,000 members in 1,024 graduate and undergraduate chapters in the United States, Liberia, the Bahamas, the U.S. Virgin Islands, Germany, South Korea, Bermuda, Japan, Canada, South Africa and the Middle East. For more information on Alpha Kappa Alpha Sorority and its programs, visit AKA1908.com.