Alpha Kappa Alpha Performs 29 Service Projects for International Conference in Houston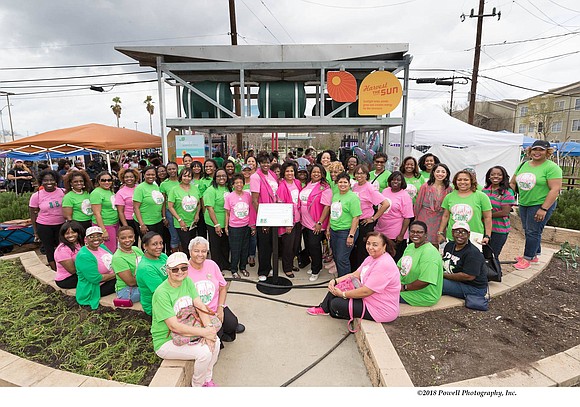 Attention was paid to high school students with service projects fifteen and sixteen. In partnership with MoneyLIVE, Alpha Kappa Alpha hosted a boot camp for high-school students to teach them to be fiscally fit, today and in the future. A Think HBCU College Expo was held during the international conference for students to explore the offerings at more than 50 schools featuring workshops and booths hosted by alums and college representatives.

In partnership with Habitat for Humanity, a two-home build was sponsored and executed by the Houston area chapters of the sorority. Those two homes were given to two deserving local families in honor of two of the sorority's prominent educational leaders and former international Presidents Dr. Mattelia B. Grays and Ms. Faye B. Bryant.
More attention was brought to the issue of the hunger crisis in America as members partnered with Rise Against Hunger, Stop Hunger Now, and the Houston Food Bank for three separate projects. Food was packaged, sorted and boxed to be given to those who are hunger locally and globally.
Having their international conference in Houston, Alpha Kappa Alpha women knew they would need to address health issues because "A Healthy Soror is a Happy Soror." The AKAs joined with American Heart Association, Alzheimer's Association, NAMI and Blue Cross Blue Shield to provide health screenings and educational awareness information, as well as learned CPR.
One of their last acts was to collect hygiene and care packages for those who were affected by the 2017 hurricanes in United States Virgin Islands and Puerto Rico.
Alpha Kappa Alpha Sorority, Incorporated provided all this service and still had time to drop millions into Houston's economy and set a world record (pending confirmation by Guinness World Records).