6 takeaways from the biggest primary night of 2018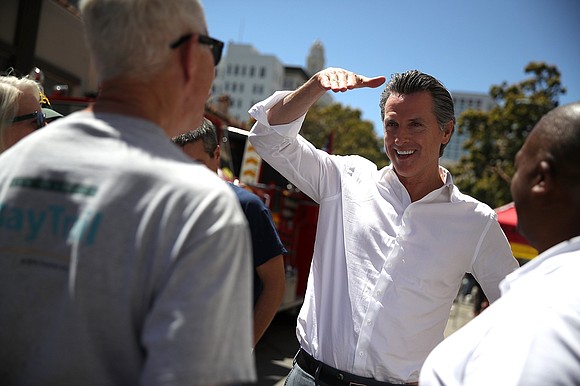 By Eric Bradner and Dan Merica, CNN
(CNN) -- In California, Democrats are hopeful they've avoided the potential nightmare of being locked out of winnable House races due to the state's unique primary system that allows the top two candidates of any party to advance.
But many of those races remained undecided as of Wednesday morning, and there are many more ballots to count.
In retiring Rep. Darrell Issa's district, one Democrat will advance, CNN projects. But in two other Republican-held districts the party was worried about -- those of Rep. Dana Rohrabacher and retiring Rep. Ed Royce -- it's still unclear if a Democrat will advance to the general election.
Sen. Dianne Feinstein sailed through her primary, although who she will face in the general election remains unclear. Former San Francisco Mayor Gavin Newsom advanced to the general election in the governor's race and will face Republican John Cox, who had the backing of President Donald Trump.
But several key House contests were still to be decided as the counting continued overnight.
Here are six other takeaways from the most important night yet on 2018's political calendar:
Another big night for female candidates
Following a trend that's been clear throughout 2018's primaries, Tuesday was another big night for female candidates, some of whom took steps toward breaking their states' gender barriers.
In California, Young Kim -- the first Korean-American Republican woman to become a state lawmaker there -- advanced to the general election in retiring GOP Rep. Ed Royce's 39th District. If she wins in November, she would be the first Korean-American woman in Congress.
In South Dakota, Republican Rep. Kristi Noem won the primary and is now likely to become the state's first female governor.
In Iowa, Democrats Cindy Axne and Abby Finkenauer could become the state's first female House members.
And in New Mexico, Democrat Deb Haaland's win puts her on track to become the nation's first Native American congresswoman.
Montana's battle of the flat-tops
Montana Democratic Sen. Jon Tester now has his Republican challenger, according to a CNN projection: state auditor Matt Rosendale.
Rosendale's win means the two best flat-top haircuts in politics will face each other in a state where Trump won big in 2016 and where he has made Tester a frequent target.
It was a long way down to Rosendale for Republicans. Initially, Ryan Zinke -- a former congressman who is now Trump's interior secretary -- was national GOP leaders' preference for the seat. Their second choice, attorney general Tim Fox, also passed. That made Rosendale the establishment preference.
Tester's brand has withstood close races before, and Gov. Steve Bullock showed in 2016 that Democrats can win in Montana in the Trump era. But this race will be among Republicans' top targets in November.
Has Bernie's power in Iowa peaked?
Vermont Sen. Bernie Sanders pushed Hillary Clinton to the limit during the Iowa caucus in 2016, a second-place finish that helped launch his upstart presidential run.