Rafael Nadal beats Dominic Thiem for 11th French Open title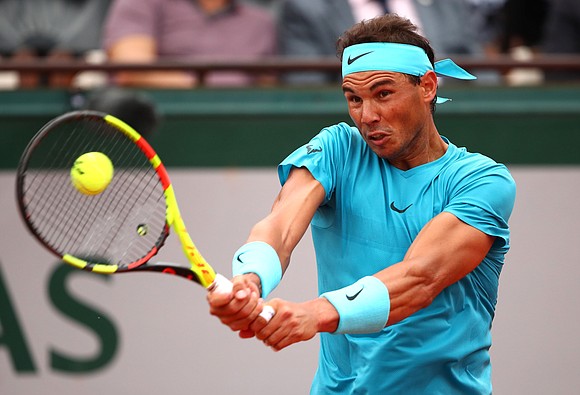 Taking tablets later during a changeover, Nadal didn't seem all that troubled and was able to complete the job on the court he owns, Philippe-Chatrier. Nor did a warning for taking too much time between points bother the left-hander.
When Thiem sent a return long on a fifth match point, Nadal raised his arms in celebration. Holding the trophy during the awards ceremony, he wept.
Despite wracking up one title after another in Paris, it clearly still means plenty to the world No. 1. Nadal said last week that he wanted to keep playing for a while, and if his body co-operates, 15 seems like a realistic possibility.
Strongest challenger
Thiem was considered the stiffest test for Nadal at the French Open and understandably so.
The Austrian is one of only three players to down Nadal on clay at least three times; the world No. 8 was the last man to overcome Nadal on clay, last month in Madrid.
But that's the best-of-three sets and in different, faster conditions.
Over the best-of-five sets on clay in 13 years, Nadal improved to 111-2 -- a figure almost as imposing as the nearby Eiffel Tower -- his lone reverses coming against Robin Soderling in 2009 and Novak Djokovic in 2015 at the French Open.
"If you win a grand slam tournament 11 times, one single one, then this is just very exceptional and amazing," said Thiem. "You need to have, I think, many extraordinary skills and talents and work ethics to achieve that."
Thiem -- competing in his first grand slam final after a pair of semifinal showings in Paris -- needed to win the first set to have any realistic opportunity of ending Nadal's reign.
Why? Nadal was 95-0 when capturing the opener on clay in the best of five format.
Slow starts have plagued Nadal in several of his matches this fortnight, most notably against 11th-seed Diego Schwartzman in the quarterfinals. He lost the first set -- the only one he actually dropped -- then turned things around following a rain delay. He was visited by the trainer that day, too, with Nadal saying it was to prevent sweat from traveling to his hand.
But against Thiem, there was nothing wrong with Nadal's start. He won the first six points and broke for 2-0.
His lead was reminiscent of their semifinal at the French Open last year, when Nadal also held the early advantage.
Thiem's start
Unlike last year -- when those first few games realistically settled matters -- Thiem bounced back, breaking straight away.
The problem for the 24-year-old was that his serve wasn't co-operating. Serving at less than 50% in the first, Nadal got plenty of looks at second serves. Overall the tally was a mere 58%.
Thiem dug in -- especially in the roughly 13-minute sixth game -- but he crumbled attempting to stay in the set, making four unforced errors.
"In general, it was -- game wise -- a good game. It was just terrible misses," said Thiem. Perhaps inexperience.