007 Elements: New James Bond museum opens on top of Austrian mountain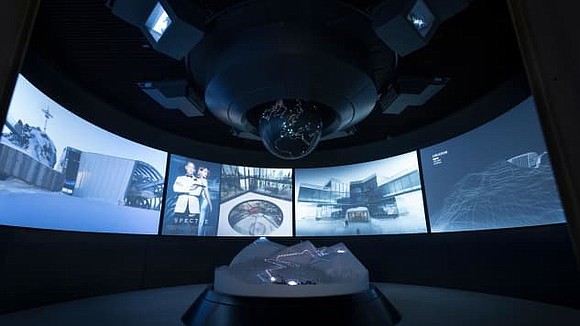 Multi-sensory
Inside the building, the emphasis is on dramatic, dark chambers and immersive soundscapes.
"It's not a traditional museum where you see posters and photographs on the wall and objects in glass cases," says Curry. "We wanted it to be much more something that you feel in a multisensory and emotive way."
The sequence of spaces add up to an experiential attraction -- perfect for visitors to immerse themselves in.
There are iconic Bond props on show, including the full size airplane from "Spectre." Callow says the museum will be constantly updated and future-proofed.
"We can change the interactive on screens, we can even change the props and the big vehicles that are in there," he says.
"We designed the museum in a way that it's got a huge hatch in the ceiling of one of the rooms so we can bring large vehicles in and change them over, every time a new film comes out."
That said, there's always going to be link between Sölden and Spectre thanks to their shared setting.
In fact, Callow points out there's long been a link between Bond and snowy locales.
"Lots of [Ian Fleming's] early life experiences took place in the Austrian alps. So when he was writing these Bond books, on several occasions he put James Bond into those places he knew from his own personal memory," says Callow.
Skiers will be attracted to the Alpine destination, but summertime in Solden is equally appealing. Callow highlights outdoor adventure center Area 47 and the 4-star Aqua Dome hotel as must-visits.
New Bond movie
If a trip to 007 Elements leaves you desperate for more Bond, you'll be pleased to hear he lives to die another day.
"I'm working on the next James Bond film now, as an art director, no title as yet, but it's being directed by Danny Boyle," confirms Callow.
Star Daniel Craig is returning to the main role, as confirmed in a May 2018 statement.
While working on the past four Bond films, Callow has traveled to locations across the world.
"I've worked in all different places, in Panama, Istanbul, the Austrian alps, the Bahamas, every time it's totally different, but always good fun," he says.
Aside from Austria, he name drops Istanbul as a particularly memorable experience.
"Istanbul was an amazing, amazing spot and I was there for a long time doing 'Skyfall,' " he says. "The people there were fantastic, it's an amazing city with great food and great culture and stuff."