Austin Ice Cream Festival announces 'Best of ATX Frozen Treat' contest judges, samplers and festival partners
The 12th Annual Austin Ice Cream Festival returns to Fiesta Gardens Saturday, June 23 for a bigger than ever year; tickets are now on sale for both the daytime event and After Dark party featuring Lee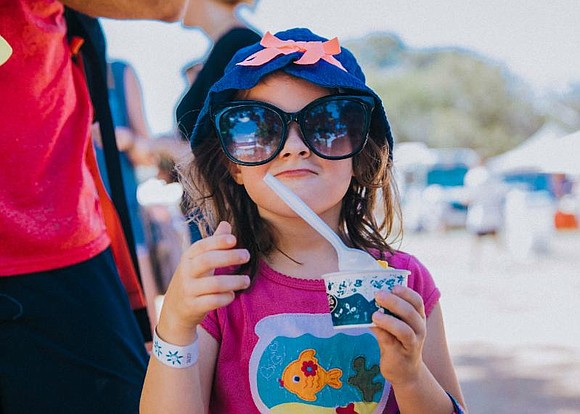 (AUSTIN, TEXAS - June 12, 2018; source: Juice Consulting) - The 12th Annual Austin Ice Cream Festival has announced the celebrity judges for the "Best of ATX Frozen Treats" contest that will take place during the daytime portion of the festival on Saturday, June 23 at Fiesta Gardens along Lady Bird Lake. The judges include Chet Gardner (Host of The Daytripper on PBS), Dawn Weston (Associate Editor of Edible Austin), Simon Madera (Owner of Taco Flats and La Holly), Suzanna Choffel (local musician and former contestant on The Voice), W. A. Brenner (food writer for The Austin Chronicle), Rachel Holtin (@Austinfoodstagram) and two surprise judges from Austin Food Adventures. Shayda Torabi (www.withshayda.com) will emcee the event.
The Austin Ice Cream Festival also unveiled the full list of frozen treat samplers participating in this year's event: Amy's Ice Creams, Bahama Freeze, The Baked Bear, Casey's New Orleans Snowballs, F'Real Milkshakes & Smoothies, Gati, GoodPop, H-E-B Creamy Creations, Ice Scrapers, Menchie's Frozen Yogurt, Moojo, Odd Pop, Over The Moon Vegan, Shaved Ice Island, SnoMo, Swoon by H-E-B, Téo Gelato and Waka Waka.
The festival has also announced the final line up of 2018 sponsors and partners including title sponsor H-E-B as well as Pecos Pete's Natural Tea & Soda, Yeti, West Elm, Sysco, Roger Beasley Mazda, LeafFilter, Topgolf, HelloFresh, In-N-Out Burger, Soozy's, Austin Gourmet Popcorn, We Are Blood, Camp Gladiator, FUZE tea, Bath Fitter, One Main Financial, GAMA, State Farm, Blue Chair Bay Rum, Dulce Vida Tequila, American Born Whiskey and Circle Brewing. Media sponsors for this year include The Austin Chronicle, Austin Monthly, CultureMap, Do512, Do512Family, KUT and KUTX.
This year, the Austin Ice Cream Festival will feature two uniquely Austin events - a daytime, family-friendly festival with mounds of ice cream and frozen treats from local favorites and national brands, contests, fun activities, live entertainment by The Wild Now and Mélat, local food trucks and more. As the sun sets, Fiesta Gardens will transform to After Dark at Austin's Ice Cream Festival, a trendy party with headlining live music from Lee Fields & the Expressions, Tameca Jones and DJ Mel, frozen treat vendors, boozy frosty drinks and Austin's favorite food trucks.
Contests and the "Best of ATX" Frozen Treats
The Austin Ice Cream Festival will crown the 2018 "Best Frozen Treat of Austin" among frozen treat companies participating in the event. Participating companies will submit a flavor into the contest to be judged by a panel of celebrity judges at the Austin Ice Cream Festival. Festival goers will put their taste buds to the test as they sample from each of the festival frozen treat vendors, then vote on their "Fan Favorite." Winners of the "Fan Favorite" and "Celebrity Judged Category" will be named the "Best of ATX Frozen Treat" and receive a commemorative Austin Ice Cream Festival spoon trophy and eternal bragging rights.
Attendees will fight off inevitable brain freeze with a series of ice cream eating contests. There will be multiple divisions - the Half Gallon Challenge, Full Pint, Half-Pint for the kids and more. Information on these contests can be found in the coming weeks online at www.austinicecreamfestival.com.