This tiny town is the site of Disney's 'lost' park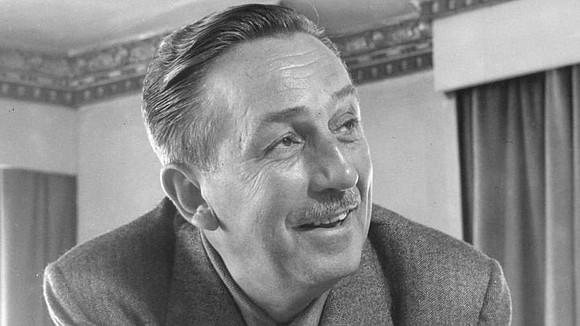 He did some filming there during a 1948 visit, but his first formal return came on Fourth of July weekend in 1956 for the dedication of a park and swimming pool named after him. He was accompanied by his wife, Lillian; Roy Disney, and Roy's wife.
This was a year after Walt expanded into television with "The Mickey Mouse Club" and into amusement parks with Disneyland. The Disney brothers wanted to unwind and see old stomping grounds.
But unlike the Hotel Marceline façade on Disneyland's Main Street, the hotel in Marceline was run-down and without air conditioning. Walt and his wife were instead lodged in the new house of local businessman Rush Johnson, where they occupied an 8-year-old daughter's bedroom. The visit went well.
Walt returned in 1960 -- again staying with the Johnson family -- when Marceline's new elementary school was named after him.
Walt's people had designed it and decorated it with Disney-character murals; the library was given copies of every Disney-produced educational book and film; Disney provided every classroom with a set of Encyclopedia Britannica.
But Walt's nostalgia was tempered by seeing how modern times were changing small-town and rural life.
He had the idea of creating an attraction honoring that disappearing time. Henry Ford had done this with Greenfield Village, in Michigan. Walt Disney, with his Mouse millions, would now do the same in Marceline.
It would be, Disney knew, an off-the-beaten-track labor of love. In his rough sketches -- on display at the museum -- he envisioned a fishing lake, a barn dance attraction and various bucolic draws.
There was to be a hotel and re-creations of an old-time butcher shop, barbershop, a general store, haberdashery, pool hall, an old service station and a coal mine. Activities for kids included a "buggy train, miniature golf and a horseshoes area." The park would be built around the old Disney home place.
At the time, Walt Disney Productions was scouting Florida -- not Missouri -- for a lucrative second theme park. Disney was also aware that word of his interest in Marceline property would make its cost skyrocket. Through a personal corporation, Retlaw ("Walter," spelled backward), Rush Johnson was authorized to quietly buy the old Disney place and adjacent properties. Retlaw purchased 200 acres, with options on 500 more.
The project came to a halt when Walt Disney died in 1966. Although he wanted his brother/partner to proceed with the "Marceline Project," the massive Walt Disney World project in Orlando consumed Roy Disney's last years. Walt's Marceline idea was abandoned in the early 1970s.
What to see
You can get the vibe of Marceline at lunchtime at Ma Vic's Corner Café, known for its chili and a signature dessert -- a sundae-like concoction called "The Dusty Miller." It's on Kansas Avenue. Close by is Ripley Park, where pop Elias Disney, said to be a fine fiddle player, would play in band concerts in the early 1900s.