Sisterhood & Service: AKAs Takeover Houston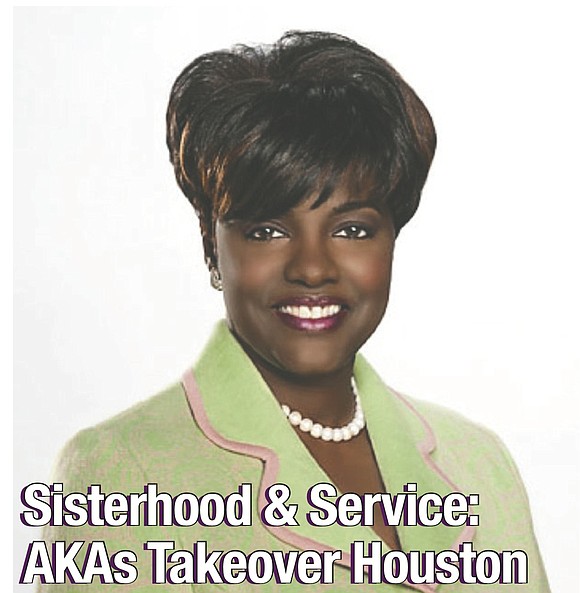 The Bayou city holds a special place in Buckhanan Wilson's heart. It was here that she attended her first national conference as a member of the sorority. Forty years later and her life has come full circle and she is back as her presidential term comes to an end. In our interview, she shared that Houston was selected for the Boule for other reasons as well. Reason #1 was for the members and chapters here. One of the oldest chapters in AKA, Alpha Kappa Omega, calls Houston home. With more than 800 financial members, Alpha Kappa Omega will celebrate its 90th anniversary this December. "Alpha Kappa Omega grew up with the sorority," expressed Buckhanan Wilson. Reason #2 is because of Dr. Mattelia B. Grays and Faye B. Bryant. Not only are they former international presidents of AKA, the ladies have a length legendary history in the field of education with Houston ISD. They are truly two of Houston's treasured pearls. Reason #3 involves the rich history and legacy Alpha Kappa Alpha has rooted Houston. AKAs have been providing service to Houston and surrounding areas since 1928. Reason #4 is because of our progressive mayor. The Honorable Sylvester Turner and member of Alpha Phi Alpha Fraternity, Inc., is too excited about the AKAs coming to Houston and a made a good pitch for the convention to be held here. He calls the upcoming convention the second Super Bowl.
Buckhanan Wilson is proud to add to the history of Alpha Kappa Alpha in Houston with this conference. It was AKA's effect on communities that first drew her to the organization. As she was growing up in South Carolina, Buckhanan Wilson watched the ladies work and provide services for her community. Joining AKA once she got to college was an easy decision. Buckhanan Wilson commented, "I felt that what AKA stood for service, scholarship, volunteerism, and making an impact was close to my principles of what I believe in. " Forty years after being initiated, Buckhanan Wilson is still working and actively serving in the name of AKA.
Sixteen of her years of membership has been spent as a member of the national executive body. First as a regional director, then moving up to recording secretary, 1st vice president and now international president. Throughout the years, she has had a front row seat to view how the sorority has evolved. She noted three major points of change coming from the overall growth in membership of the sorority that now has 1,048 chapters, 30% undergraduate chapters and 70% graduate chapters. Expansion of the organization's focus to deliver more of what the community is in need of. And third is increasing the sorority's level of engagement, especially with politics by being a voice for those who can't speak for themselves.
Over the course of the last four years, Alpha Kappa Alpha members have championed the "Launching New Dimensions of Service" program thrust. Programs fell under five target areas – Educational Enrichment, Health Promotion, Family Strengthening, Environmental Ownership, and Global Impact. Included in these initiatives are International Community Impact Days and the signature enrichment program, ASCEND Youth Enrichment Program. LNDS targeted the core values of the sorority, service, scholarship, and sisterhood, while taking the sorority's mission impact, focus, and service to a new level. "We want to be sure that we are always alleviating problems and concerns involving girls and women and others in our community who need our help.'